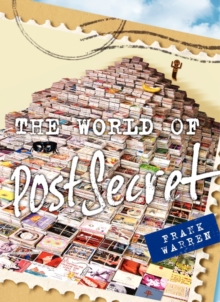 The World of Postsecret
Hardback
Description
New York Times BestsellerAn addictive collection of new full-color postcard secrets and app secrets from the author of the smash the #1 New York Times bestselling PostSecret books-with more secrets than any previous PostSecret book!A decade ago, Frank Warren began a community art project that captured the popular imagination and became a worldwide obsession.
He handed out postcards to strangers and left them in public places-asking people to share a secret they had never told anyone and mail them back to him anonymously.
More than half a million secrets, 600 million hits to the award-winning PostSecret blog, and five huge bestsellers later, the PostSecret phenomenon is bigger than ever.
By turns funny, heartbreaking, thoughtful, and moving, this compendium of graphic haiku offers an intimate glimpse into both individual private lives and into our shared humanity.Included in this compelling new book are dozens of the best archived secrets from the original PostSecret app; inside stories about the most controversial secrets Frank Warren has received; moving text from the new PostSecret play, foreign secrets, "puzzle" secrets, and much more!
Information
Format: Hardback
Pages: 288 pages
Publisher: HarperCollins Publishers Inc
Publication Date: 04/11/2014
Category: Gift books
ISBN: 9780062339010
Free Home Delivery
on all orders
Pick up orders
from local bookshops
Reviews
Showing 1 - 2 of 2 reviews.
Review by Cherylk
16/06/2015
I have never heard of these books of that people were ever doing this. My first thought is "Wow, I can't imagine sharing a dark secret with a stranger". Yet then my next thought was after reading some of the secrets is "What do you have to lose about sharing your secret with someone you have never met. It might be therapeutic." Which reading some of the secrets that people were willing to share, they felt very comfortable sharing their secrets. Although some of them made me wonder what happened to the people now...did their tell their family, spouse, friend? Are they happy now? You could say that I felt a connection with these people and their secrets. This book is a good table book.
Review by Twink
16/06/2015
Frank Warren started PostSecret as a community art project ten years ago - asking people to send him 'artful secrets'. He hoped to receive 365. To date, he's received over a million, with more on the way every day.I remember being fascinated by this idea when it first came out. I became a devotee of the site, looking for 'new releases' on the PostSecret website on Sundays and reading all the book compilations. And somehow I fell away from it. But, the latest book release (the first in five years), The World of PostSecret, has again piqued my interest.What is about secrets that captures our attention? To see if others might have the same doubts, hopes, wishes, fears and dreams as ourselves? This latest book is close to 300 pages - and there are many and varied secrets portrayed. Honestly, I'm sure everyone will find one close to home somewhere in the book.The way the sender chooses to display/announce/portray their secret on a simple postcard is fascinating as well - truly artistic and imaginative. Interspersed throughout the book are some short missives from Warren - and the original postal worker who handled delivery.I found it hard to just read straight through from first page to last. Although here are many happy secrets, the sad seem to far outweigh them and many are truly heartbreaking. Happy or sad, they will have you thinking, perhaps remembering or planning....I think this is still a fascinating project and the spins off Warren has pursued are laudable - the PostSecret community has raised over a million dollars suicide prevention programs.And really, there's no other way to rate this than five stars. Fascinating, thought provoking and addictive. And kind of appropriate at this time of the year as everyone is making resolutions.
Also by Frank Warren