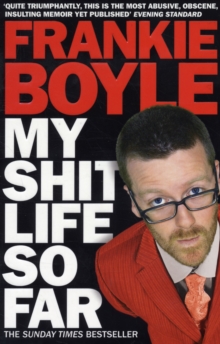 My Shit Life So Far
Paperback
Description
Ever since being brought up by The Beatles, Frankie Boyle has been a tremendous liar.
Join him on his adventures with his chum Clangy The Brass Boy and laugh as he doesn't accidentally kill a student nurse when a party gets out of hand. I don't think anyone can have written an autobiography without at some point thinking "Why would anyone want to know this shit?" I've always read them thinking "I don't want to know where Steve Tyler grew up, just tell me how many groupies he f**ked!"' So begins Frankie's outrageous, laugh-out loud, cynical rant on life as he knows it.
From growing up in Pollockshaws, Glasgow (`it was an aching cement void, a slap in the face to Childhood, and for the family it was a step up'), to his rampant teenage sex drive (`in those days if you glimpsed a nipple on T.V. it was like porn Christmas'), and first job working in a mental hospital ('where most evenings were spent persuading an old man in his pants not to eat a family sized block of cheese'), nothing is out of bounds. Outspoken, outrageous and brilliantly inappropriate, Frankie Boyle, the dark heart of Mock the Week, says the unsayable as only he can.
From the TV programmes he would like to see made ('Celebrities On Acid On Ice: just like Celebrity Dancing On Ice, but with an opening sequence where Graham Norton hoses the celebrities down with liquid LSD'), to his native Scotland and the Mayor of London ('voting for Boris Johnson wasn't that different to voting for a Labrador wearing a Wonder Woman costume'), nothing and no one is safe from Frankie's fearless, sharp-tongued assault. Sharply observed and full of taboo-busting, we-really-shouldn't-be-laughing-at-this humour, My Shit Life So Far shows why Frankie Boyle really is the blackest man in show business.
Information
Format: Paperback
Pages: 304 pages, (2x8pp plates)
Publisher: HarperCollins Publishers
Publication Date: 10/06/2010
Category: Biography: arts & entertainment
ISBN: 9780007324514
Other Formats
EPUB from £5.49
eAudiobook MP3 from £6.79
Free Home Delivery
on all orders
Pick up orders
from local bookshops
Reviews
Showing 1 - 1 of 1 reviews.
Review by welshy72
16/06/2015
This book is basically as the title says, Frankie Boyle's shit life so far. I only normally read biog's about celebs I know of but my son said this was brilliant and I had to give it a go!! I've never seen Boyle on TV and only heard of him as he had caused a contraversy a few months ago that I saw on the news.With some of the things he's says I'm laughing but with some things I'm cringing, he's quite a cynical fella isn't he! He says in the introduction that he lies a lot in this book (and I could certainly see where he was lying!) so how can this be a memoir if you don't know if it's the truth or not, or is it just his sense of humour, I don't know.With that in mind a decided to read this book with a little scepticism and by doing that I enjoyed reading this book more than I thought I would. He's quite an articulate and intelligent man. Very honest about his drinking and drug taking.Some parts of the book though were crude, obscene even and made it slightly uncomfortable reading in parts. I'm not sure why he wrote this book, celebs lately seem to bring out an autobiography every few years detailing their lives and I thought that would have been everything Boyle stood against but maybe he's just another 'celeb' out to make a buck or two.Not sure if I would recommend this book, if your a big fan of Boyle then I would but if not then it might not interest you.