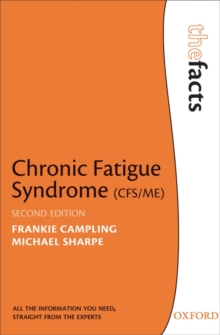 Chronic Fatigue Syndrome
Paperback
Part of the The Facts series
Description
Chronic fatigue syndrome (CFS) remains one of the most controversial illnesses, both in terms of its causes, and the best ways to treat the illness.
For years, sufferers have had to deal with scepticism from their families, employers, and even health care professionals.
The vast amount of conflicting advice that has been published up to now has served only to confuse sufferers, and professionals, even more.
Chronic Fatigue Syndrome: The Facts presents a compassionate guide to this illness, providing sufferers and their families, with practical advice, based solely on scientific evidence.
It is unique in being written by both a sufferer and a physician, both of whom have had extensive experience of talking to, and helping, patients.
Included in the book is a detailed guide to self-help, written from a patient's perspective, but evidence-based.
The book also deals with a number of special issues, advising on how to choose therapies and therapists, and how to deal with CFS in children.
The book additionally includes an overview of the history of the illness, looking at the nature and causes of CFS, and the opportunities for the future. The book will be invaluable for sufferers from CFS, their friends and families, and the numerous health professionals who come into contact with sufferers from this illness.
Information
Format: Paperback
Pages: 216 pages, 5 black and white line drawings
Publisher: Oxford University Press
Publication Date: 03/07/2008
Category: Popular medicine & health
ISBN: 9780199233168
Free Home Delivery
on all orders
Pick up orders
from local bookshops
Reviews
Showing 1 - 1 of 1 reviews.
Review by eclecticdodo
27/08/2015
Part of the NHS Reading Well, Books on Prescription scheme. I wasn't actually recommended this book by my doctor but I saw it in the library and thought I'd give it a go. Having had CFS/ME for at least 15 years a lot of this wasn't new to me but rather a crystalisation of a many of the things I've concluded for myself. This book is contraversial because it suggests management techniques rather than any cures, particularly cognitive behavioural therapy (CBT) and graded exercise/activity therapy (GET). These are unpopular because their use to some suggests an understanding that CFS/ME is all in the mind. However, they are based on sound research evidence as the most effective option looked at to date so it's the best we have. CBT is used to help cancer patients deal with their illness so the suggestion it is treating CFS/ME as a psychological illness is simply unfounded. GET, when done properly, is about finding a base line activity level that is sustainable and VERY SLOWLY increasing as you are able, it's a more controlled version of what many people do already. I wish I'd had this book earlier on in my illness, although I probably wouldn't have accepted it so readily back then because I was looking for a miracle cure. There are parts I disagree with, including the assertion that CFS/ME is never life threatening which is simply untrue. However, it is a very helpful book. 3.5 stars only because it is too long and challenging a read for those who really need it the most.