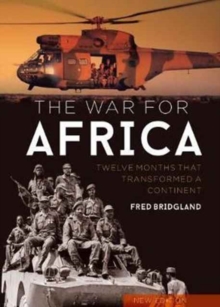 The War for Africa : 12 Months That Transformed a Continent
Hardback
Description
The Angolan Civil War lasted over a quarter of a century, from 1975 to 2002.
Beginning as a power struggle between two former liberation movements, the MPLA and UNITA, it became a Cold War struggle with involvement from the Soviet Union, Cuba, South Africa and the USA.
This book examines the height of the Cuban-South African fighting in Angola in 1987-88, when 3,000 South African soldiers and about 8,000 UNITA guerrilla fighters fought in alliance against the Cubans and the armed forces of the Marxist MPLA government, a force of over 50,000 men.
Bridgland pieced together the course of the war, fought in one of the world's most remote and wild terrains, by interviewing the South Africans who fought it, and many of their accounts are woven into the narrative. This classic account of a Cold War struggle and its momentous consequences for the participants and across the continent, is released in a new edition with a new preface and epilogue.
Information
Format: Hardback
Pages: 360 pages, 40
Publisher: Casemate Publishers
Publication Date: 19/05/2017
Category: African history
ISBN: 9781612004921