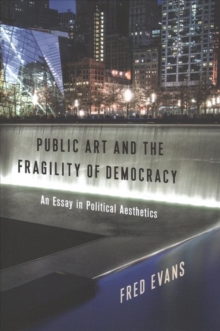 Public Art and the Fragility of Democracy : An Essay in Political Aesthetics
Hardback
Description
Public space is political space. When a work of public art is put up or taken down, it is an inherently political statement, and the work's aesthetics are inextricably entwined with its political valences.
Democracy's openness allows public art to explore its values critically and to suggest new ones.
However, it also facilitates artworks that can surreptitiously or fortuitously undermine democratic values.
Today, as bigotry and authoritarianism are on the rise and democratic movements seek to combat them, as Confederate monuments fall and sculptures celebrating diversity rise, the struggle over the values enshrined in the public arena has taken on a new urgency. In this book, Fred Evans develops philosophical and political criteria for assessing how public art can respond to the fragility of democracy.
He calls for considering such artworks as acts of citizenship, pointing to their capacity to resist autocratic tendencies and reveal new dimensions of democratic society.
Through close considerations of Chicago's Millennium Park and New York's National September 11 Memorial, Evans shows how a wide range of artworks participate in democratic dialogues.
A nuanced consideration of contemporary art, aesthetics, and political theory, this book is a timely and rigorous elucidation of how thoughtful public art can contribute to the flourishing of a democratic way of life.
Information
Format: Hardback
Pages: 360 pages, 22 b&w illustrations
Publisher: Columbia University Press
Publication Date: 20/11/2018
ISBN: 9780231187589