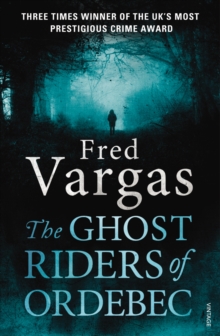 The Ghost Riders of Ordebec : A Commissaire Adamsberg novel
Paperback
Description
`People will die,' says the panic-stricken woman outside police headquarters.
She refuses to speak to anyone besides Commissaire Adamsberg.
Her daughter has seen a vision: ghostly horsemen who target the most nefarious characters in Normandy.
Since the middle ages there have been stories of murderers, rapists, those with serious crimes on their conscience, meeting a grisly end following a visitation by the riders.
Soon after the young woman's vision a notoriously vicious and cruel man disappears.
Although the case is far outside his jurisdiction, Adamsberg agrees to investigate the strange happenings in a village terrorised by wild rumours and ancient feuds.
Information
Format: Paperback
Pages: 432 pages
Publisher: Vintage Publishing
Publication Date: 27/02/2014
Category: Crime & mystery
ISBN: 9780099569558
Free Home Delivery
on all orders
Pick up orders
from local bookshops
Reviews
Showing 1 - 1 of 1 reviews.
Review by JosephCamilleri
27/08/2015
Over the past couple of decades, French author Fred Vargas (real name Frédérique Audoin-Rouzeau) has emerged as one of the leading international writers of crime fiction, thanks to her two sets of novels featuring, respectively, the reluctant amateur sleuths known as "The Three Evangelists" and Commissaire Adamsberg and his team of Paris detectives. One may get an idea of Vargas's quirky style from the opening chapter of this 2011 Adamsberg novel, which could well work as a stand-alone short story. Adamsberg starts his day with an investigation involving the death of an old woman who apparently choked on a piece of bread. However, things are not what they seem and the Commissaire finds himself suspecting the dead woman's husband. The chapter combines bittersweet humour and wry insights into human foibles with a neat little puzzle which will delight traditionally-minded crime readers.The novel "proper" is a darker affair. An unprepossessing widow from Ordebec calls on Adamsberg and pleads with him to investigate some mysterious goings-on at her native village. Her daughter Lina has had a terrifying vision of four local men being carried away by the mythical "Furious Army": a horde of undead horsemen who, since medieval times, have wrought vengeance for unpunished crimes. The Commissaire is sceptical until he travels to the Normandy village and the body of the first victim of the otherwordly horsemen is discovered. He becomes increasingly embroiled in the investigation, as the Ghost Riders strike again.It is no spoiler to reveal that there is a very human agency at work behind the gruesome deaths. Nonetheless, the novel successfully taps into medieval Northern myths to build an atmosphere of supernatural dread. It is at its best when the action is set amongst the mists of Normandy, a bleak yet haunting landscape peopled by eccentric and grotesque characters. Indeed, sometimes it feels like a Southern Gothic novel transplanted from the "New World" to a very old one.As is typical in such works, the Commissaire and his team solve a couple of "side" mysteries along the way. The subplots flesh out the narrative, and allow for the development of the secondary characters. Nevertheless, they do dampen the momentum somewhat. I also have reservations about the solution when it eventually arrives. This is a cut above your average crime caper, and a deserved winner of the 2013 CWA International Crime Dagger (jointly with Pierre Lemaitre's "Alex"). Siân Reynolds provides a fine and idiomatic translation. However, ultimately "The Ghost Riders of Ordebec" one of those reads in which the journey is more enjoyable than the destination itself.
Also in the Commissaire Adamsberg series | View all