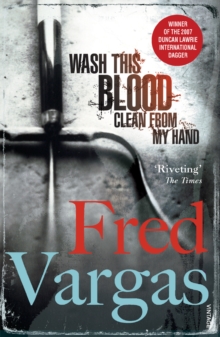 Wash This Blood Clean From My Hand
Paperback
Description
Between 1943 and 2003 nine people have been stabbed to death with a most unusual weapon: a trident.
In each case, arrests were made, suspects confessed their crimes and were sentenced to life in prison.
One slightly worrying detail: each presumed murderer lost consciousness during the night of the crime and has no recollection of it.
Commissaire Adamsberg is convinced all the murders are the work of one person, the terrifying Judge Fulgence.
Years before, Adamsberg's own brother had been the principal suspect in a similar case and avoided prison only thanks to Adamsberg's help. History repeats itself when Adamsberg, who is temporarily based in Quebec for a training mission, is accused of having savagely murdered a young woman he had met.
In order to prove his innocence, Adamsberg must go on the run from the Canadian police and find Judge Fulgence. Winner of the 2007 Duncan Lawrie International Dagger for The Three Evangelists.
Information
Format: Paperback
Pages: 400 pages
Publisher: Vintage Publishing
Publication Date: 01/01/2008
Category: Crime & mystery
ISBN: 9780099488965
Free Home Delivery
on all orders
Pick up orders
from local bookshops
Reviews
Showing 1 - 2 of 2 reviews.
Review by AHS-Wolfy
16/06/2015
Another adventure for Commissaire Jean-Baptiste Adamsberg and his motley crew of detectives from the Paris Serious Crime Squad. Just prior to 8 of their number (including Adamsberg and Danglard, his trusty sidekick) departing for Quebec on a DNA profiling course, Adamsberg is struck by a premonition of foreboding and it's not until what he's seen subconsciously is clarified by Danglard that he realises his past has come back to haunt him. Possibly quite literally so. It seems a killer known as the Trident has resurfaced with a death in Strasbourg matching his MO precisely. Adamsberg was sure he knew who the killer was but there was always cast-iron evidence pointing to someone else so no-one would believe him. Especially when his suspect was a well respected judge and one of those implicated in a murder was Adamsberg's own brother who had been on the run ever since. The only problem with this new murder though is that the judge in question had been dead for 16 years. Had he risen from beyond the grave to commit another atrocity or was there some other possibility? What's worse though for Adamsberg is when things start to go seriously awry when he gets to Canada.The plot and the mystery itself are not bad but what really shines in Vargas' books are the characters. While the story mainly revolves around Adamsberg with occasional insight coming from the more logically minded Danglard we also get to see more from other members of the team this time around as well as a few peripheral characters that prove useful from time to time. You may have gathered that this isn't quite your straight-forward police procedural series it's one I'm very much enjoying and will certainly be back for more.
Review by bsquaredinoz
16/06/2015
Commissaire Jean-Baptiste Adamsberg, a senior officer with the 28-member Serious Crime Squad in Paris, is on the trail of a serial killer. While that sounds like standard fare for crime fiction the odd angles here include the fact no one else thinks there is a serial killer in action and the person who Adamsberg believes to be guilty of the crimes has been dead for 16 years! Adamsberg's tracking of the killer started 30 years before the events in this book when his young brother was accused of a murder Adamsberg is sure he did not commit. Now, with yet another murder that fits the pattern, Adamsberg must try to convince people that there is a serial killer on the loose while carrying on his normal duties with include a two week trip to Canada to learn new forensic techniques.<br/><br/>The book is a little surreal. Adamsberg discusses the details of forensic testing techniques in one breath then addresses the notion of a ghost committing murder in the very next sentence and both topics are treated with equal seriousness. But if you can take your head out of the traditional police procedural space you won't regret diving into this book because it's a delightful read. On top of what turns out to be a very logical (if unlikely) story there are some marvellous characters. Not only is Adamsberg an interesting person, with all his inner voices and odd beliefs, but the supporting cast is equally fascinating. Among others there's an octogenarian computer hacker, a policewoman who has the power of invisibility and a truly macabre villain.<br/><br/>Although the fifth in the series (only the third to be translated into English though) this is the first I've read and, although there are references to previous books and events, I don't think I suffered at all from not having read the previous books. <br/>
Also in the Commissaire Adamsberg series | View all