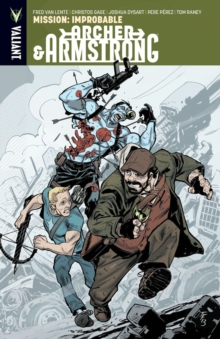 Archer & Armstrong Volume 5 : Mission: Improbable
Paperback / softback
Description
Archer & Armstrong are going to war with Bloodshot and H.A.R.D Corps!(GULP!) That's right, Valiant's globe-trotting adventure duo havebeen targeted for elimination by Project Rising Spirit's most elite killcrew.
Their mission? Assassinate the the newly appointed leader of a homegrownfundamentalist terror sect named...Obadiah Archer?! And if they could take outhis mentally ill, alcoholic bodyguard who just happens to think he's a10,000-year-old immortal, that'd be swell, too!It's an improbable mission with impossible odds.
Do Bloodshot and thesteely killers of the H.A.R.D. Corps stand a chance against twoconspiracy-smashing heroes that never go down without a fight?
Find out righthere with the complete collection of the mayhem-soaked "Mission: Improbable"crossover, collecting Archer & Armstrong: Archer #0, Archer &Armstrong #18-19, and Bloodshot and H.A.R.D Corps #20-21 by acclaimedwriters Fred Van Lente, Joshua Dysart, and Christos Gage, and all-star artistsPere Perez and Tom Raney.
Information
Format: Paperback / softback
Pages: 128 pages
Publisher: Valiant Entertainment
Publication Date: 24/06/2014
Category: Superheroes
ISBN: 9781939346353
Free Home Delivery
on all orders
Pick up orders
from local bookshops