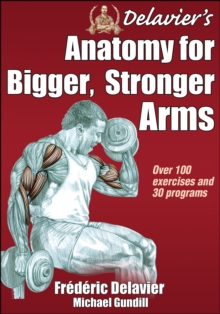 Delavier's Anatomy for Bigger, Stronger Arms
Paperback
Description
Bestselling author Delavier helps serious weightlifters increase mass, definition and strength. "Delavier's Anatomy for Bigger, Stronger Arms" is your guide to the massive biceps, triceps and forearms you've always wanted.
Over 330 full-colour photographs and 130 anatomical illustrations allow you to go inside more than 100 exercises to see how muscles interact with surrounding joints and skeletal structures and how variations, progressions and sequencing can isolate specific muscles to help you achieve targeted results.
It includes over 30 tried-and-tested programmes for strength, size and sport performance.
You'll also learn the most effective exercises for your goals; how to determine weight, repetition and frequency; how to prevent tendinitis, muscle tears and forearm and wrist pain; and strategies for varying your routine to ensure constant gains and optimal results.
Whether you're looking to quickly increase the size of your biceps or correct imbalances between the heads of your triceps, "Delavier's Anatomy for Bigger, Stronger Arms" provides serious training for serious results.
Information
Format: Paperback
Pages: 176 pages, 130 illustrations, 330 photos
Publisher: Human Kinetics Publishers
Publication Date: 15/10/2012
Category: Exercise & workout books
ISBN: 9781450440219
Free Home Delivery
on all orders
Pick up orders
from local bookshops