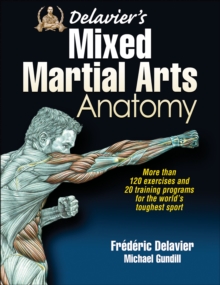 Delavier's Mixed Martial Arts Anatomy
Paperback
Description
This is the new edition from million bestselling author.
For more than a decade, Frederic Delavier's acclaimed books have enjoyed robust sales, including his best-selling Strength Training Anatomy, which has sold more than one million copies worldwide.
Now the acclaimed author, illustrator and former powerlifting champion brings his expertise to the immensely popular sport of mixed martial arts.
Featuring the most effective exercises for enhancing the full range of combat skills, this invaluable resource allows athletes to spend less time in the gym and more time in the ring.
This distinctive approach will help them enhance their strengths while improving their weak points.
Information
Format: Paperback
Pages: 144 pages, 120 Illustrations, color; 237 Halftones, color
Publisher: Human Kinetics Publishers
Publication Date: 03/10/2013
Category: Anatomy
ISBN: 9781450463591
Free Home Delivery
on all orders
Pick up orders
from local bookshops
Reviews
Showing 1 - 4 of 4 reviews.
Review by empress8411
16/06/2015
I was surprised when I was awarded this book. As you may guess, I'm not an MMA fighter, nor have I aspirations to be. Given the subject matter of this book, I expected to be lost. I was not. The fact someone with my lack of knowledge easily followed this book speaks volumes to me. Delavier did an amazing job of keeping the text jargon-free while still making it specific to MMA goals. Divided into three parts, this book is clear, logical and easy to understand. Detailed, specific movements are difficult to translate into written word, but Delavier does so in clear, precise terms. Between the layout of the text and the marvelously detailed anatomical drawings, replicating these movements is simple (and yes, I tried a few, much to my husband's amusement.). In particular, the instructions helped me understand what each movement was for, not just what muscle, but what move, what goal, why it was important as a fighter. For example, page 98 is instructions for Leg Lifts on a Pull-up Bar. This is to strengthen the "rectus femoris, psoas, iliacus, abdominal muscles, and arms," (Delavier 98). It's under the Kicks and Knee Strikes chapter. But the author instructions you to do the leg exercise will contracting the arm muscles because when you in an actual fight, you will most likely be contracting you arms at the same time as you legs in this move. This is brilliant! As a female, I feel compelled to add in a woman's viewpoint. As no time did I feel this book was angled towards only male MMA fighters. Yes, most of the models were men. This makes sense. Most MMA fighters are male. But all instructions are gender-neutral and open to either sex. Delavier included citations and reference to medical studies about muscle power, control etc. This gave me confidence in his instructions. He also included many points of warning about how to prevent injury in the gym and in the ring. While fighting is throwing a punch, it's also about withstanding a punch, and Delavier encouraged the reader to prepare for that. I also found the programs at the end very helpful. Part 1 is general instructions, Part 2 the individual exercise, and Part 3 puts it all together. This gave a beginner like me much confidence. At the same time, it's obvious an experience fighter would be able to use the instructions to create a program tailored to them. Delavier did an excellent job of writing a work that spans novice to professional with ease. My only qualm, and it' a small one, is that some of the male models wore shorts entirely too small for a man – I'm looking at you, shoulder-star-tattoo dude on page 88. In the end, I would recommend this book, not only to MMA fighters (if I knew any) but to anyone interested in learning specific way to increase strength, power and endurance. While this book is most definitely written for fighters, the information is helpful to anyone looking to become more athletic. The received this book free as part of LibraryThings' Early Reviewers Program in exchange for my fair and honest opinion
Review by angela.vaughn
16/06/2015
I was pleasantly surprised by the detail in the book. It does a great job explaining an exercise, why it's best, hints, and even warnings. I have been doing many of the suggested exercises and can already feel the difference. This is a great addition to my home gym.
Review by AnneDenney
27/08/2015
A fine book. It is well organized, well written and contains lots of very helpful pictures. And while this book is geared very particularly to people who train in earnest for a mixed martial arts competition, even if you are not preparing for a fight, this little guide gives you a good idea why and how to train you muscles, and what for. For those who do any one martial arts, this can be a nice addition to help be prepared for dangerous situations off the tatami, especially for those who train in a dojo that stresses arts over self defense.Recommended!
Review by dulcinea14
16/06/2015
I got a copy from Goodreads Giveaways in exchange for my review. At first, I didn't think I'd get much out of this book, but it provides so much basic information for beginners that I actually found it to help with my strength training routines. Extremely detailed, but so well organized that you don't feel inundated with information. The formatting is amazing, well laid out with great graphics. The illustrations of various muscles will be invaluable for reference. The suggested routines can be easily tailored depending on your fitness level and goals. If the other Delavier books are even half as good, I'd recommend them all.