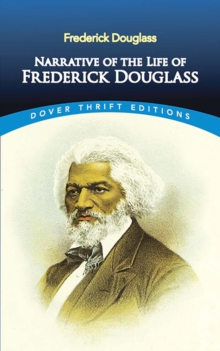 Narrative of the Life of Frederick Douglass, an American Slave : Written by Himself
Paperback
Information
Format: Paperback
Pages: 96 pages
Publisher: Dover Publications Inc.
Publication Date: 13/04/1995
Category: Autobiography: general
ISBN: 9780486284996
Other Formats
Paperback from £4.99
EPUB from £3.99
Hardback from £9.99
Free Home Delivery
on all orders
Pick up orders
from local bookshops
Reviews
Showing 1 - 5 of 11 reviews.
Previous | Next
Review by atyson
16/06/2015
This book has a reputation as one of the most reliable and uncompromised first-person accounts by an American slave - which is why I picked it up. The book was written as a response to scepticism about the author's slave origins due to his literacy. The routine cruelty of slaveholders and their overseers is probably what anyone would now expect to hear. But it is the restrained and level-headed description of this cruelty that really gives the narrative its power. A couple of vivid points the author impressed on me: that slaveholders with pronounced Christian beliefs were invariably the most inhumane; and the sense of isolation and mistrust he found on his escape to 'freedom' in New York. This is surely some kind of definitive contribution to literature of the human condition.
Review by deanc
16/06/2015
In 1845, only a few years after escaping the clutches of slavery, 27-year-old Frederick Douglass published this poignant account of his life through the auspices of the Anti-Slavery Office of Boston. The book was influential in advancing the cause of abolition in ante-bellum America. He describes his early years as a slave, which includes his account of learning to read by stealth with the help of white school-age boys he met in his Baltimore neighborhood. The more he read the more he learned of the world of freedom and, consequently, the more he yearned to be free. Repeatedly in these pages, Douglass reveals his contempt for so-called "Christian" slaveholders. He wrote, "For of all slaveholders with whom I have ever met, religious slaveholders are the worst. I have ever found them the meanest and basest, the most cruel and cowardly, of all others." He went so far as to say that he could see "no reason, but the most deceitful one, for calling the religion of this land Christianity."As with most of the Dover Thrift Editions, this copy does not include an index or footnotes, but that doesn't diminish the powerful impact of this little book.
Review by doowatt34
16/06/2015
I used to hear negative things about frederick bailey, johnson douglas but after reading his first narrative autobiography I thought of him as a brave, intellegent, thought ful and wise young man. I was truly fascinated by the way that he tricked the young boys in his baltimore neighborhood into teaching him how to read, the way he gave his master the beat down of his life, the type of planning that he did to get things done, the strength and courage that it took to stand up to rouge cowards, and his constant analysis of his condition as well as his friends, family and colleagues. Although the total narrative was very focused on the events of his life you cannot help but wonder about other things that made the civilization, look astoundingly backwards.Things such as the proletariate violence, the child abuse, the rape of woman, the wonton murder and the labor practices. By the way the narrative explains the work practices, the freedman, the working class were as much in bondage as the slave. There had to be high unemployment and when the slaves were eventually emancipated everyone who was not wealthy and didn't own anything was without a doubt emancipated also, else headed for the same plight as the people in bondage...I enjoyed this narrative....
Review by meggyweg
16/06/2015
I had to read this for a college history class, but I would have read it for pleasure too. I can certainly why it is a classic. Douglass's story, like all slave narratives, is compelling, and you have to admire him for what he'd been through and what he accomplished in spite of his origins. On top of all that, he was a genuinely gifted writer. The book is clear, concise and thought-provoking. I would recommend this for high school and up. It's short enough to appeal to those with limited attention spans.
Review by teagueamania
16/06/2015
One of the most worthwhile American history books you can read, written by a completely self-taught slave, who reveals our current education system as a farce, much as he did the governmental, religious, and social structure of his time for accepting chattel slavery. Short and easy to find free online.
Also in the Dover Thrift Editions series | View all