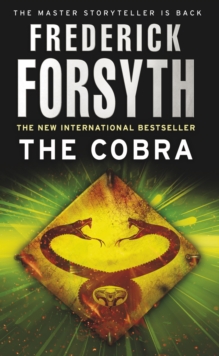 Description
An unwinnable war: Cocaine is worth billions of dollars a year to the drug cartels who spread their evil seed across Western society.
It causes misery, poverty and death. And slowly its power is spreading...A man on a mission ex-CIA special ops, Paul Devereux, intellectual, dedicated and utterly ruthless, is given what seems like an impossible task: Stop the drug barons, whatever it costs.
At his disposal, anything he wants - men, resources, money.
He must assemble a team equal to the lawless men who control this deadly trade.
An unthinkable solution: Up to now the drug cartels have had it their way.
Up to now, the forces of law and order have played by the rules.
That is about to change. Those rules no longer apply...and a dirty war is about to get a whole lot dirtier...
Information
Format: Paperback
Pages: 448 pages
Publisher: Transworld Publishers Ltd
Publication Date: 01/04/2011
Category: Thriller / suspense
ISBN: 9780552159906
Other Formats
EPUB from £3.99
CD-Audio from £13.75
Free Home Delivery
on all orders
Pick up orders
from local bookshops
Reviews
Showing 1 - 1 of 1 reviews.
Review by reading_fox
16/06/2015
Very poor, totally unbeliveable in many places quite preposterous in others, the rest is just weak, totally unlike his past masterworks.The basic premise is that the US president becomes personally affected by the effects on cocaine, and decides to increase the war on drugs to unprecidented levels. He does this by contracting an outsider - a now retired CIA agent, who takes on this mandate only under the conditions that he has a totally free hand. To do this the president declares cocaine a clear and present danger to the US, raising it to the same stakes as terrorism. Unfortunetly Forsyth thinks that this alieviates the responsabilities of civil rights. It doesn't, and this is only the first of several such basic errors. Another spectacular one is in assuming you can get DNA from someone's coffee cup, or that the british Prime Minister cares about global warming. All the portrayals of UK characters are very poor - something that Forsyth used to be quite good at. Although I don't know any Columbian's I doubt that any of those characters are accurate either. I hope that some research was conducted inot the drugs trade, as the various smuggling techniques feature frequently - but given all the other errors I could easily believe that Forsyth just made it all up.The story alternates between overviews of various special forces actions as dictated by teh Cobra - our CIA chap - and brief snap shots of the effects these have on the cocaine Cartel. It is not an effective story telling technique. There is no sense of action or drama in the comba sequences, and way too much foreshadowing in the criminal scenes. Added to this is a confused few sections where the left hand is supposed to not know what the right had is doing, but results in it being unclear who if anyone knows anything at all. The one area where the book could have shone, but didn't, would have been a discussion of the various possabilities of how to combat drug abuse. Legalisation wasn't even mentioned, which is yet another massive failing. About the only positive thing I can say is that it was coherentle written without obvious gramatical flaws.Don't waste your time with this, go and read Day of the Jackel which is heaps better.