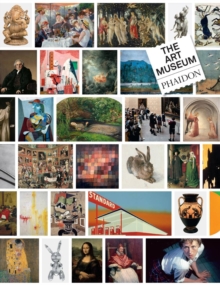 Description
The Art Museum offers the museum experience without the boundaries of space and time.
The unique structure of the book has been created by specialists in all fields of art, from institutions worldwide, who have collected together important and innovative works as they might be displayed in the ideal museum for the art lover.
As any great museum the book is divided into galleries, presenting the extraordinary variety of artistic output, from ancient Greece, to Australasia and Oceania, Byzantine art to that of the Pre-Columbian Americas, the Renaissance to twentieth-century art, with an emphasis on later western art.
Rooms examine important aspects and movements within the gallery.
Corridors between the rooms allow the reader to focus on seminal works of each period and culture, with the huge reproduction format allowing for detailed examination.
The rooms present the finest examples of human creativity, each piece labelled with key data (including dates, medium and dimensions) alongside a brief description, and the group of works explained by a curator.
Painting, sculpture, metalwork, textiles and ceramics comprise the wide variety offered to the reader, as individual works are all contextualised with expert contributors detailing the works' significance to the evolution of art history.
With cross-references throughout, a comprehensive glossary and detailed location maps, The Art Museum is both fantastic to browse through and an indispensable guide to art throughout the ages.
Free Home Delivery
on all orders
Pick up orders
from local bookshops
Reviews
Showing 1 - 1 of 1 reviews.
Review by terribly
16/06/2015
This is a crazy book: a huge, weighty, gorgeous insane publication. What an incredible art book. Scale matters: great reproductions on elephant folio sized pages. But damn, what a pain to get home. And it really needs a coffee table to live on. Hell, get legs for it and it will be a coffee table. This is absolutely corrective to the idea that paper will disappear under the onslaught of epubs. Will be browsing this for years.
Also by Frederick M. Asher