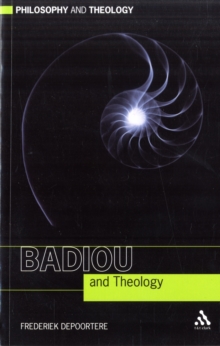 Badiou and Theology
Paperback / softback
Description
Depoortere traces the links between French philosopher Alain Badiou and Pauline theology in the face of Nietzsche's proclamation of the death of God.
The French philosopher Alain Badiou (born 1937), is one of the main representatives of a philosophical homage to Saint Paul.
Yet, Badiou is not a believer in the traditional sense, let alone a Christian philosopher.
On the contrary, he rejects transcendence and pleads for a radical this-worldliness.
The text is segmented into five parts. In Depootere's introduction, Badiou's interpretation of Nietzsche's proclamation of the death of God is presented.
The life and work of Badiou is then briefly outlined to give some context to later passages.
This is followed by two sections on Badiou's relationship to Pauline theology and a conclusion which posits the question of An Atheistic Political Theology.
Here, Badiou's atheistic reading of Saint Paul is unpicked and demonstrated as a fruitful addition to theological study.
Depootere's focus is on "Badiou's Saint Paul: La fondation de l'universalisme" (1998; translated into English in 2003 as "Saint Paul: The Foundation of Universalism"). Through a close reading of this important work, the main themes of Badiou's philosophy are introduced and their theological relevance examined. "The Philosophy and Theology" series looks at major philosophers and explores their relevance to theological thought as well as the response of theology.
Information
Format: Paperback / softback
Pages: 176 pages
Publisher: Bloomsbury Publishing PLC
Publication Date: 01/09/2009
Category: Western philosophy, from c 1900 -
ISBN: 9780567032621
Also by Frederiek Depoortere
Also in the Philosophy and Theology series | View all