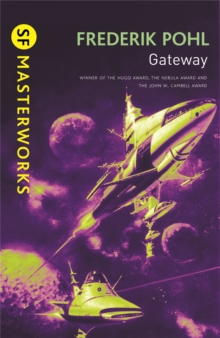 Description
One of the very best must-read SF novels of all timeWealth ... or death. Those were the choices Gateway offered. Humans had discovered this artificial spaceport, full of working interstellar ships left behind by the mysterious, vanished Heechee.Their destinations are preprogrammed.
They are easy to operate, but impossible to control.
Some came back with discoveries which made their intrepid pilots rich; others returned with their remains barely identifiable.
It was the ultimate game of Russian roulette, but in this resource-starved future there was no shortage of desperate volunteers.
Information
Format: Paperback
Pages: 288 pages
Publisher: Orion Publishing Co
Publication Date: 01/03/2010
Category: Science fiction
ISBN: 9780575094239
Free Home Delivery
on all orders
Pick up orders
from local bookshops
Reviews
Showing 1 - 1 of 1 reviews.
Review by trueneutral
16/06/2015
I was eager to read this because of a bunch of reasons: it won a buttload of awards (Nebula, Hugo), it's part of the SF Masterworks (an amazing collection) and I loved [Space Merchants] (written together with [[C. M. Kornbluth]]). So why the 3.5 stars? Because the main character annoyed me (the big baby Robinette that's afraid to do anything, but loves to screw anything that moves and cry and over-dramatise things) and I couldn't connect with him. This made about half of the book unbearable and boring for me. The book is half in the past (before Rob/Bob/Robinette struck gold) and half in the present when he's filthy rich and visits a robot therapist (called Sigfrid) - this bit amused me at first, then started to get in the way of the main story then got boring and annoying because it was pretty much the same.I personally would've loved more in the way of actual sci-fi, more details about the Heechee (the alien civilization) and a lot fewer therapy sessions. I liked the ads, letters, mission reports and snippets of conversations that were interspersed in the story, giving more substance to the world around the main character. Not much, as the whole book was very very centered on him. So there you have it. A decent read, but one that I'm not going back to in the future - also, I'm not sure about trying the next book in the series, given that it continues his story.
Also in the S.F. Masterworks series | View all