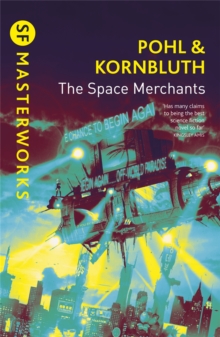 The Space Merchants
Paperback
Description
It is the 20th Century, an advertisement-drenched world in which the big ad agencies dominate governments and everything else.
Now Schoken Associates, one of the big players, has a new challenge for star copywriter Mitch Courtenay.
Volunteers are needed to colonise Venus. It's a hellhole, and nobody who knew anything about it would dream of signing up.
But by the time Mitch has finished, they will be queuing to get on board the spaceships.
Information
Format: Paperback
Pages: 192 pages
Publisher: Orion Publishing Co
Publication Date: 10/07/2003
Category: Science fiction
ISBN: 9780575075283
Free Home Delivery
on all orders
Pick up orders
from local bookshops
Reviews
Showing 1 - 5 of 11 reviews.
Previous | Next
Review by prof_brazen_guff
16/06/2015
Incredibly prescient and a damning indictment of our times.
Review by LisaMaria_C
16/06/2015
This follows Mitchell Courtenay, and the television series <i>Mad Men</i> has nothing on this advertising executive of the future trying to sell the idea of colonizing Venus. This is a world where Advertising executives <i>are</i> the ruling class--and the rest of the gray mass are "consumers."OK, at the risk of being labeled a capitalist tool without a sense of humor, I have to admit I don't like this book, while seeing while it may appeal to some. This is a sharp satire of consumer culture and capitalism, and unlike many a science fiction work of its era, it's not too dated--some parts very current. I think because the critics of capitalism have been saying the same thing about it--and it's defenders--forever. I'm no fan really of the kind of books that make Big Business the villain, I'm rather sick of them and how predictable they read, but mostly I was amused not irritated in the first half--I found this particular passage...well, resonant of attitudes of some:<i>The Conservationists were fair game, those wild-eyed zealots who pretended modern civilization was in some way "plundering" our planet. Preposterous stuff. Science is <i>always</i> a step ahead of the failure of natural resources. After all, when meat got scarce, we had soyburgers ready. When oil ran low, technology developed the pedicab.</i>And the picture Pohl and Kornbluth painted of a dystopic society was imaginative--even if I was sick of the gazillionth novel that tells us our future is soy burgers--although this should be forgiven because back then it might have been original. This was published in 1952. What made me lose patience actually is when the authors gave us a bit of the Consies (the Conservationists) Samizdat. The rift on demanding "planning of population, reforestation, soil-building, deurbanization, and the end to the wasteful production of gadgets" *clutches etablet* made me think of the Unabomber's treatise--and these are obviously supposed to be the good guys. The novel just stopped being even a little bit fun for me after absorbing that. I think if it had stuck to a satirical view of selling Venus, I'd have enjoyed it more, and even mulled over its points more. I think Sayers' <i>Murder Must Advertise</i> is a funnier, and more effective, critique of the advertising world. Bottom line: I can't honestly say I like this novel, even though I could see recommending it to a friend who finds this worldview more congenial.
Review by baubie
16/06/2015
Reading this novel felt like an episode of Mad Men, played out on an old-time radio show, in the future. The Space Merchants is about a future where consumerism is king and Mitch Courtenay is tasked with selling a new product - Venus. The writing was easy to read and fast paced. I was never bored and the length of this book was just right. Coming in a only 158 pages, this novel was as long as it had to be. The details definitely date this book to the 1950's but that, in my opinion, is a large part of its appeal. The action was intense while the imagery was still vivid. I highly recommend this book to any sci-fi fans out there.
Review by fsmichaels
16/06/2015
Love this book - 1950's sci-fi classic, so on the ball about advertising and Chicken Little 50 years out. Prescient. Found out Frederick Pohl, who is now in his 90s, blogs over at thewaythefutureblogs.com. Too much fun.
Review by sgarnell
16/06/2015
Perhaps this book is not so popular these days, but I love it nonetheless. It's has a lot to say about the despicable nature of marketing, which is great because I just hate marketing :) That said, it's a deep novel with lots of interesting characters. Highly recommended for fans of classic SF with a strong message.
Also in the S.F. Masterworks series | View all