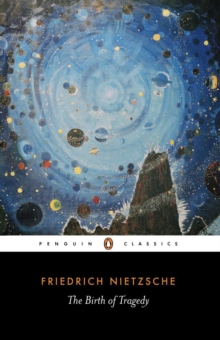 The Birth of Tragedy : Out of the Spirit of Music
Paperback
Description
A compelling argument for the necessity for art in life, Nietzsche's first book is fuelled by his enthusiasms for Greek tragedy, for the philosophy of Schopenhauer and for the music of Wagner, to whom this work was dedicated.
Nietzsche outlined a distinction between its two central forces: the Apolline, representing beauty and order, and the Dionysiac, a primal or ecstatic reaction to the sublime.
He believed the combination of these states produced the highest forms of music and tragic drama, which not only reveal the truth about suffering in life, but also provide a consolation for it.
Impassioned and exhilarating in its conviction, The Birth of Tragedy has become a key text in European culture and in literary criticism.
Information
Format: Paperback
Pages: 160 pages
Publisher: Penguin Books Ltd
Publication Date: 27/05/1993
Category: Literary studies: general
ISBN: 9780140433395
Free Home Delivery
on all orders
Pick up orders
from local bookshops
Reviews
Showing 1 - 2 of 2 reviews.
Review by pulpexploder
16/06/2015
I haven't read much yet, but it seems to be more about Nietzsche having a man-crush on Wagner than about music.
Review by Pandaros
16/06/2015
This the book which ruined Nietzsche's career as a classical philologist. He had been appointed to the Chair of Greek at Basle University aged just 24 (the youngest ever Professor in Classics) and was full of all the impetuousness that youth provides. This book is a product of it, and in reading it one can see all the brash claims that brought Willamowitz, through jealousy, to ruin Nietzsche.Certainly the history behind the book improves it. And even Nietzsche had to admit that he disagreed with much of the work, hence the much later preface he wrote which is present in the Penguin edition. If it wasn't for this book, however, and his subsequent ousting from Basle, Nietzsche may not have become the great philosopher he is - which is the grounding Willamowitz gave in his autobiography to justify his incredibly harsh and insulting rebuttal of the book.Modern scholarship has now looked with a much more credible eye over this book. Many scholars, viz. Stephen Halliwell, the late W.B. Stanford, Malcolm Heath; are now calling this book misinterpreted and maligned. Indeed the main aim of Nietzsche's book was not to say that the Greek view of life was pessimistic or to explain the origins of Greek tragedy, but to attack the scientific methodology of philology. Yes, his book does support those claims and over one hundred years later people are willing to listen to what he has to say, but philology was Nietzsche's main victim of this book.I have given it three stars. I agree with his view of philology, but his conclusions are rashly drawn and I don't entirely agree with what he says about the Dionysian-Apolline division in tragedy.