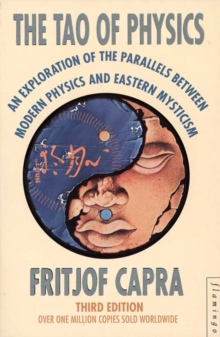 The Tao of Physics
Paperback
Description
Here is the book that brought the mystical implications of subatomic physics to popular consciousness for the very first time--way back in 1975.
This special edition celebrates the thirty-fifth anniversary of this early Shambhala best seller that has gone on to become a classic.
It includes a new preface by the author, in which he reflects on the further discoveries and developments that have occurred in the years since the book's original publication.
Physicists do not need mysticism, Dr. Capra says, and mystics do not need physics, but humanity needs both.
It's a message of timeless importance.
Information
Format: Paperback
Pages: 416 pages
Publisher: HarperCollins Publishers
Publication Date: 01/01/1982
Category: Popular science
ISBN: 9780006544890
Free Home Delivery
on all orders
Pick up orders
from local bookshops
Reviews
Showing 1 - 3 of 3 reviews.
Review by snuffles_lib
16/06/2015
nuclear physics, insight into quantum mechanics, an all encompassing insight into hinduish, bhuddhism, Taoism and the zen, and how all these are related, i can bet u've never read such a book b4. if u're scientific minded at all, u'll read this book...
Review by jmegawarne
16/06/2015
This book, when it comes right down to the nuts and bolts, employs a slightly liberal interpretation of quantum-mechanical physics to support its main theme. But the result is really worth it, as Capra excitedly invites us to suspend criticism for a while, and to allow him to demonstrate the striking parallels between the imagery of various Eastern philosophies on one hand, and the scientific descriptions of physical reality on the other.He is quite careful to avoid implying that one is a substrate of the other, and you come out of this book feeling like you have two different views on the same universe: one is a uniquely objective account of reality, and one is a uniquely subjective account of reality. While both are equally as profound, this book opens one up to examine the human-level (I am loath to use the stupid term "spiritual") experience as it complements our scientific understanding of reality, without careering headlong into the abyss of religious assumption.A difficult one to pull off, and Capra has balanced it very well.
Review by marieharbon
16/06/2015
One of the first book to blend physics and mysticism, it's surprisingly easy on the brain and a fascinating read.