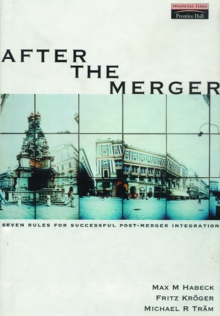 After the Merger
Paperback
Description
Mergers are making headlines and prompting questions about which will ultimately succeed and which will fail. The wave of mergers in all sectors continues unabated: petroleum, financial services, telecoms, automotives, accountancy, and even in publishing. Even in an economic downturn, merger and acquisition activity continues to accelerate.
However, an A.T. Kearney pan-European study suggests that half the acqusitions fail to achieve their objectives, while three-quarters actually destroy shareholder value.
The objective for most mega-mergers is to increase market share and capitalise from the [elusive] "synergies" between businesses while making substantial cost savings via economies of scale.
With such a clear objective in mind how come things go so disastrously wrong?
Although integration is not without stress for an organization and employees, mergers can succeed if companies develop and adhere to a highly disciplined strategy of adding value on day one while implementing a blueprint for future growth. After the Merger shows how.This book provides answers about effective integration strategies under merger & acquisition situations Categorises merger objectives and provides a framework for ensuring the core objective(s) are met Identifies the seven merger types * identifies the generic "must-do" practices common to any M&A situation Suggests strategies and tactics for successful merger integration depending on which of the merger types you are in Offers practical support and advice for senior and middle managers undertaking merger projects Includes corporate stories and anecdotes and offers a toolkit approach incorporating tips, diagnostics, and how to techniques
Free Home Delivery
on all orders
Pick up orders
from local bookshops