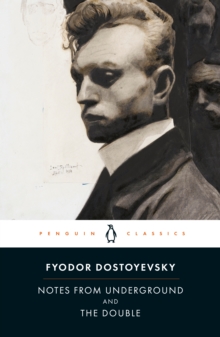 Notes from Underground and the Double
Paperback
Description
Collected here in Penguin Classics are two of Fyodor Dostoyevsky's shorter works, Notes from Underground and The Double, translated by Ronald Wilks with an introduction by Robert Louis Jackson.Alienated from society and paralysed by a sense of his own insignificance, the anonymous narrator of Dostoyevsky's groundbreaking Notes from Underground tells the story of his tortured life.
With bitter irony, he describes his refusal to become a worker in the 'anthill' of society and his gradual withdrawal to an existence 'underground'.
The seemingly ordinary world of St Petersburg takes on a nightmarish quality in The Double when a government clerk encounters a man who looks exactly like him - his double, perhaps, or possibly the darker side of his own personality.
Like Notes from Underground, this is a masterly tragicomic study of human consciousness.Ronald Wilks's extraordinary new translation is accompanied here by an introduction by Robert Louis Jackson discussing these pivotal works in the context of Dostoyevsky's life and times.
This edition also contains a chronology, bibliography, table of ranks and notes on each work.Fyodor Mikhailovich Dostoyevsky (1821-1881) was born in Moscow.
From 1849-54 he lived in a convict prison, and in later years his passion for gambling led him deeply into debt.
His other works available in Penguin Classics include Crime and Punishment, The Brothers Karamazov, The Idiot and Demons.If you enjoyed Notes from Underground and The Double, you might like Dostoyevsky's Demons, also available in Penguin Classics.'Notes from Underground, with its mood of intellectual irony and alienation, can be seen as the first modern novel ...
That sense of meaninglessness of existence that runs through much of twentieth-century writing - from Conrad and Kafka, to Beckett and beyond - starts in Dostoyevsky's work'Malcolm Bradbury
Information
Format: Paperback
Pages: 352 pages
Publisher: Penguin Books Ltd
Publication Date: 29/01/2009
Category: Classic fiction (pre c 1945)
ISBN: 9780140455120
Other Formats
EPUB from £1.07
Paperback / softback from £6.99
Free Home Delivery
on all orders
Pick up orders
from local bookshops
Reviews
Showing 1 - 1 of 1 reviews.
Review by xuebi
16/06/2015
This volume combines two of the great Russian novelist Fyodor Dostoyevsky's iconic stories: <i>Notes from Underground</i> and <i>The Double</i>; both are thematically linked by their study of the human consciousness in a decidedly tragic-comedic fashion.<br/><br/>In the first novella, <i>Notes from Underground</i>, Dostoyevsky recounts in an extended monologue the thoughts and feelings of the eponymous Underground Man who rambles and rages against the oppressive society "above ground" with bitter irony and how, because he does not want to take part in any aspect of that society, retreats underground to an isolated and tortured existence. He attacks Western philosophy and idealism, choosing instead "conscious inertia".<br/>The second part of this novella delves deeper into the Underground Man's psyche by three events that happened, seemingly before his descent underground, and how they work together to destroy him, demonstrating the uncooperative and irrational actions of humans. <br/><br/>The second novella follows a civil servant as he encounters his doppelgänger one stormy night, and thereupon descends into a nightmarish world as his double demonstrates all the charm and social skills the original Golyadkin lacks to the latter's despair. Eventually, the original Golyadkin encounters more and more of his doubles and must be committed to an insane asylum, leaving the reader questioning how much of the narrator's story was fabricated in his own head. <br/><br/>Both novellas study the human condition and, particularly <i>Notes from Underground</i>, deal with the themes of alienation and existentialism; both are at the start of a long tradition of modern novels that are permeated with a sense of ennui and the meaningless of existence. Both novels in fact explore these themes at length and are an excellent introduction to the works of one of the greatest writers in Russia and indeed the world.