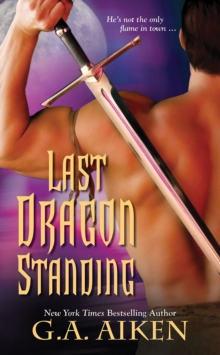 Last Dragon Standing
Paperback
Description
I know what they see when they look at me. The charming, soft-spoken dragoness bred from the most powerful of royal bloodlines.
A disguise stronger than any battle shield that allows me to keep all suitors at tail's length.
A technique that's worked until him. Until Ragnar the Cunning, handsome barbarian warlord and warrior mage from the desolate Northlands.
Unlike those who've come before him, he does not simply submit to my astounding charm and devastating smile.
Instead, he dismisses me as vapid, useless and, to my great annoyance, rather stupid!
Yet I'll allow no male to dismiss me. Soon he'll learn my worth, my many skills, and the strength of my will.
For this one challenges me enough to make me want to ruthlessly taunt him, tease him and, finally, when the trap is set, bring him to his knees.
Information
Format: Paperback
Pages: 352 pages
Publisher: Kensington Publishing
Publication Date: 01/09/2010
ISBN: 9781420108880
Free Home Delivery
on all orders
Pick up orders
from local bookshops
Reviews
Showing 1 - 5 of 7 reviews.
Previous | Next
Review by thewalkinggirl
16/06/2015
I reserve the right to change my mind, but my initial impression is that this works better as a continuation of the saga of the children of the dragon queen Rhiannon, this time featuring Keita the Red Viper than as a romance between Keita and Ragnar. That said, I don't suggest reading this unless you've read at least one of the previous books -- too many names and plotlines floating about.
Review by macygma
16/06/2015
All along Keita had been biding her time. She was the youngest daughter, the femme fatale, the one everyone protected. She was the assassin. She was also very annoyed with her current captor, Ragnar, a Northern dragon and mage. Ragnar saved her from his father - who's going to save Ragnar from Keita? The trek home has never seemed so long with their bickering (hilarious), their private thoughts (scandalous!)and Ragnar's cousins drooling after Keita's every step.In the fourth book of Aiken's dragon tales we learn more about the feminine side of the Gwalchmai fab Gwyar dragon clan. Keita is underestimated by all with just cause. A flighty blonde who apparently sleeps around (a lot!) needs the protection of all her brothers and her father. None needs it less than Keita and we learn more about her rearing and more insight into the men of the group as well.And then we have Fearghus' and Annwyl's twins. Swinging swords at age two? Biting, scratching, trying to kill each other? Hmmmm. The youngsters everyone wants to kill. And with good reason. Read on! This one is the best yet!
Review by tivonut
16/06/2015
Ok, finally got to this 4th book in the series. I would give it a 4 1/2 but the series has definitely gone from fantasy romance to mostly fantasy humor with some romance thrown in.<br/><br/>This is mainly the story of Keita, the sister of Briec, Feargus, etc... She always is the flighty one, with many lovers and jumping from one place to another. We learn pretty quickly that this is a facade and she has hidden depth. Her love interest, Ragnar, is a lightening dragon that has an alliance with Keita's mother. He is tasked to bring her brother and along with him Keita, home. He has had dealings with Keita before and though attracted physically, he finds her vapid. Through the first part of the book he realizes that he has misjudged her and from here there is a slow progression of them getting together. It is not very hot or heavy in chemistry but more a slow burn. It is an OK romance.<br/><br/>The romance luckily is not the meat of this book, it is the crazy family, the politics, and the upcoming war. There is a lot of switching to other people and places. You get to see the workings and scheming of all the players and how they interlock. We also get to see the break in Izzy and Eibhear's friendship into hurtful and sad anger. It is a great set up for the next book and I cannot wait. Will add in the next few days.<br/><br/>This book, once it got going, was very a very fun romp. I had a bit of trouble at first remembering the characters and players but after 1/4 of the way through I started getting them straight again. I think these are best to be read one after another as the stories continue on. We get a lot of the past couples and how they are coping. Very fun.<br/><br/>So a star knocked of for the poor chemistry and romance.
Review by aoibhealfae
16/06/2015
How weird that the series is totally changing itself from smutty dragon humor/romance into a serious story about a war and internal conflicts between kingdoms and prophetic twin children. I hardly laugh in this book but it compensate with the drama and the politics around the Rhiannon's and Annwyll's thrones. Its a proper war book with all the blood and violence. The past character was prominent in this books without overwhelming the book's main character; Keita, her majesty spy, and Ragnar, the northland warlord who was helping the southland queen to retrieve her daughter and son.<br/><br/>The book began 2 years after the last book which ends with Ragnar (who had kidnapped Keita) who went to the dragon queen for an alliance and end up with his warlord father killed by Izzy and Talith. And Keita who went to a mountain to study the warrior ways after being kidnapped by Ragnar's father and by Ragnar himself which she drove her spike-tail into his chest after he let her go. 2 years later, Ragnar with his brother, cousin and Éibhear went to a castle to find Keita on an executioner board lamenting her innocence of the death of a lord (which is very funny btw) and the Ragnar find it weird to have her, a dragoness, making excuses when she could have just shift into a dragon and fly away. A family reunion and a heated argument and a foreign dragon who came to her rescue later, they went away to the kingdom of Annwyll the Bloody where they encountered even more siblings drama, distrust, occasional bone breaking and mini war etc.<br/><br/>I really enjoyed this book. I always like the complex characters who evolved since the first book. Compared to the first three books, GA Aiken tried so hard to make in funny and compelling as erotica but in this one, it was a proper fantasy than a romance.
Review by msralways
16/06/2015
I can understand all the mixed reviews this book got, but I completely loved it! Ragnar and Keita were incredible together and despite this book not focusing so much on their romantic relationship, it focused on the part of the relationship were their trust was built and a friendship began to for, that is up until the point where neither of them could hold themselves back. The war and its effects in the lives of all the other characters brought to the fore sides of them we have not seen before now, which made me that much more eager to read the other books.