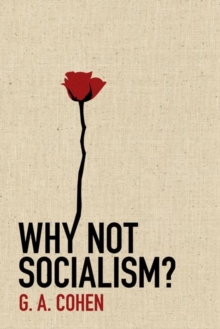 Why Not Socialism?
Hardback
Description
Is socialism desirable? Is it even possible? In this concise book, one of the world's leading political philosophers presents with clarity and wit a compelling moral case for socialism and argues that the obstacles in its way are exaggerated.
There are times, G. A. Cohen notes, when we all behave like socialists. On a camping trip, for example, campers wouldn't dream of charging each other to use a soccer ball or for fish that they happened to catch.
Campers do not give merely to get, but relate to each other in a spirit of equality and community.
Would such socialist norms be desirable across society as a whole?
Why not? Whole societies may differ from camping trips, but it is still attractive when people treat each other with the equal regard that such trips exhibit.
But, however desirable it may be, many claim that socialism is impossible.
Cohen writes that the biggest obstacle to socialism isn't, as often argued, intractable human selfishness--it's rather the lack of obvious means to harness the human generosity that is there.
Lacking those means, we rely on the market. But there are many ways of confining the sway of the market: there are desirable changes that can move us toward a socialist society in which, to quote Albert Einstein, humanity has "overcome and advanced beyond the predatory stage of human development."
Information
Format: Hardback
Pages: 96 pages
Publisher: Princeton University Press
Publication Date: 23/08/2009
Category: Ethics & moral philosophy
ISBN: 9780691143613
Free Home Delivery
on all orders
Pick up orders
from local bookshops
Reviews
Showing 1 - 1 of 1 reviews.
Review by KelMunger
16/06/2015
Considering the way the word "socialist" has been thrown around lately, it's helpful to do a definition check. G.A. Cohen, a University of Oxford professor who died last August, sums it all up in an informative and thought-provoking little essay. Princeton has published a new, pocket-sized hardcover edition that's both timely and useful. Cohen uses the example of a camping trip to illustrate how society functions, and then expands that illustration to explain how socialism works. He dismantles the idea that human selfishness is the bar to a working form of socialism, acknowledges the failures of central planning and posits a democratic socialism that uses the market rather than attempting to control it. While Cohen admits that all market systems are predatory, that's no reason to simply surrender. Logically, concisely and deliberatively, he offers some good reasons to seek an alternative.