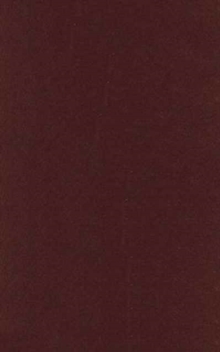 Studies in English Farming and Topography
Paperback / softback
Description
This selection of sixteen studies by Dr Fussell covers English topography and farming over a period of three hundred years, from the Tudor era to the aftermath of the Napoleonic Wars.
The first study reprinted here is a 56-page bibliographical guide to works on English travel and topography from 1500-1815, published over forty years ago and now recognized as a basic reference book.
Its republication in this volume will be welcomed by bibliographers and collectors alike.
This is complemented by fourteen of the author's articles on the farming and landscape of England, published over a period of forty years, covering the changes in farming practice in this country during the Tudor and Stuart periods. and the agricultural revolution in the seventeenth and eighteenth centuries. This volume thus presents a unique selection of work on the development of English farming, and the consequent change in the landscape, over the most significant period in the history of British agriculture, a period that led to the creation of both the landscape and the farming systems that are still with us to-day.
Information
Format: Paperback / softback
Pages: 290 pages
Publisher: Pindar Press
Publication Date: 31/12/1985
Category: Garden design & planning
ISBN: 9780907132189