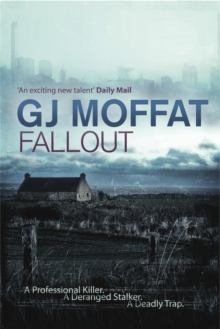 Fallout
Paperback / softback
Description
The second fantastic thriller from the newest voice in Scottish crime fiction - the brilliant G J MoffatLogan Finch has made a new life for himself with his daughter Ellie.
But a blossoming relationship with DC Rebecca Irvine is about to be put to the test when Irvine's old flame, drug-addicted rock star Roddy Hale, enters her life again. And then there's the small matter of a professional killer following her every move.
Alex Cahill, close-protection operative and ex-US army special-forces soldier, hates babysitting celebrities.
Maybe this time will be different. Tara Byrne is a Scots girl about to break into Hollywood and is back in Scotland for the premiere of a low-budget film as a favour for a friend.
She is the target of a disturbed stalker and needs Cahill and his team to watch her back. As the clouds roll in to blanket the sky at the end of an Indian summer, violence erupts all round, putting everyone at risk.
For Logan, there are impossible choices to be made: between his best friend and the woman he loves.
Between who lives and who dies...
Information
Format: Paperback / softback
Pages: 480 pages
Publisher: Headline Publishing Group
Publication Date: 31/03/2011
Category: Crime & mystery
ISBN: 9780755318544
Also by G. J. Moffat