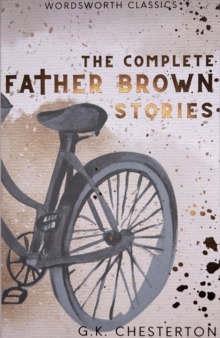 The Complete Father Brown Stories
Paperback
Description
With an Introduction by David Stuart Davies. Father Brown, one of the most quirkily genial and lovable characters to emerge from English detective fiction, first made his appearance in The Innocence of Father Brown in 1911.
That first collection of stories established G.K. Chesterton's kindly cleric in the front rank of eccentric sleuths. This complete collection contains all the favourite Father Brown stories, showing a quiet wit and compassion that has endeared him to many, whilst solving his mysteries by a mixture of imagination and a sympathetic worldliness in a totally believable manner.
Information
Format: Paperback
Pages: 800 pages
Publisher: Wordsworth Editions Ltd
Publication Date: 05/05/1992
Category: Classic crime
ISBN: 9781853260032
Other Formats
Paperback from £8.59
EPUB from £3.99
Free Home Delivery
on all orders
Pick up orders
from local bookshops
Reviews
Showing 1 - 5 of 6 reviews.
Previous | Next
Review by reading_fox
16/06/2015
Catholic priest Father Brown investigates various crimes in 1900's England. As a preist, through confession, he is familiar with all the ways a human can attempt to elude justice and he always manages to fund the criminal's weak point. Some stories can be very rambling with long "atmospheric" passages and a lot of references to saving of souls.
Review by ds_61_12
16/06/2015
Father Brown solves several crimes, ranging from murder to theft.Nice stories by a great name in literature.
Review by bookswamp
16/06/2015
An perfect bedside companion; the stories being short and rather amusing then unsettling one can put the book down when reaching drowsiness to sleep without losing the plot!
Review by veracite
16/06/2015
Women don't quite exist for G.K. Chesterton. I'm was puzzled that so many of the villians suicided. It seemed very cruel of Chesterton to deny his villains any forgiveness at all.
Review by Erratic_Charmer
16/06/2015
The actual title of the Wordsworth Classics edition I have is simply <u>Father Brown</u> and it is 'all the favourite' Father Brown stories rather than a complete collection. For some reason the Librarything link is a misnomer. Even if this isn't an exhaustive collection, there are still plenty of stories, and very delightful they are too.Reading Father Brown is a little bit like turning up a missing volume of Sherlock Holmes - the good Father makes similar brilliant deductions (or would those be inductions?) with his keen powers of observation and logic. Analytical powers aside, though, the two detectives could hardly be more different in character. Father Brown is unprepossessing and usually underestimated by those who do not know him well: 'he had a face as round and dull as a Norfolk dumpling; he had eyes as empty as the North Sea; he had several brown-paper parcels which he was quite incapable of collecting' (page 5). Of course his dumpy appearance is deceiving and criminals who think to take advantage of the priest soon find themselves outwitted....The most appealing characteristic of Father Brown is not his intelligence, however, but his wisdom and compassion for other people in spite of his keen awareness of the flaws in human nature. Without making excuses for criminals he nevertheless extends forgiveness to them. A good part of his powers of 'detection' comes simply from his willingness to see clearly those people whom the rest of society looks through or down on. Catholic or no, one can't help feeling that Father Brown would be a wonderful person with whom to have a long chat.What might be irritating to some (although I found it very interesting) is the way that Chesterton uses Father Brown as a mouthpiece to express his views on tradition, materialism, superstition, and so on - all in quite an orthodox Catholic fashion, of course! It blends so flawlessly with the character, though, that it hardly seems out of place. One of my favourite examples of this is in 'The Oracle of the Dog,' where Father Brown complains: 'It's part of something I've noticed more and more in the modern world... People readily swallow the untested claims of this, that, or the other. It's drowning all your old rationalism and scepticism, it's coming in like a sea; and the name of it is superstition... It's the first effect of not believing in God that you lose your common sense and can't see things as they are.' (page 266) Intriguing stuff! I wish Father Brown had taken some time off saying Mass and solving mysteries to write out a reasoned defense of his theology. That would have been well worth reading too.
Also in the Wordsworth Classics series | View all