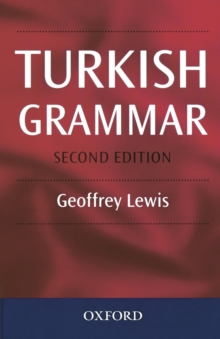 Description
Since its appearance in 1967, Professor Lewis's Turkish Grammar has been the standard work on the language throughout the English-speaking world. This revised and fully updated new edition further reflects the results of the language reform movement which, though not so drastic in its effect on the spoken language, has made anything written before the early 1930s, and a lot since, increasingly obscure to subsequent generations.
Incorporating much new material, it presents an authoritative, lucid, and engaging text, setting out every form and construction of pre- and post-reform Turkish that may be encountered in print, as well as colloquial usages.
Reviews of the first edition: 'This is by far the most comprehensive Turkish grammar ever published in English [Professor Lewis] guides the student through the delicate labyrinths of the language with sympathetic understanding and what is rare in the grammarian humour The typography and arrangement of the book are beyond all praise, and all in all the book is a most notable achievement.'Royal Central Asian Journal '[The] thinnest chapters of a grammar are sometimes those on syntax; but in this book the discussions of modern Turkish syntax are the strongest sections, illustrated by lucid and penetrating analyses of sentence structure, with no skirting round difficulties or papering over of cracks This book will certainly be instructive and indeed enjoyable reading to every student of Turkish who has already made some progress in the language.' SOAS Bulletin 'Professor Lewis displays both a mastery of Turkish grammar and an understanding of how that grammar can be best presented to English speakers.
His style is clear and readable, his overall approach extremely practical.' Middle East Journal
Information
Format: Paperback
Pages: 328 pages
Publisher: Oxford University Press
Publication Date: 09/11/2000
Category: Grammar & vocabulary
ISBN: 9780198700364
Free Home Delivery
on all orders
Pick up orders
from local bookshops