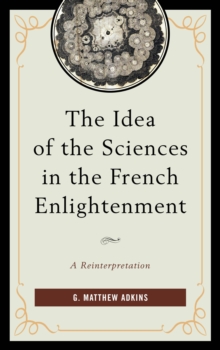 The Idea of the Sciences in the French Enlightenment : A Reinterpretation
Paperback / softback
Description
This book traces the development of the idea that the sciences were morally enlightening through an intellectual history of the secretaires perpetuels of the French Royal Academy of Sciences and their associates from the mid-seventeenth century to the end of the eighteenth century.
Academy secretaries such as Fontenelle and Condorcet were critical to the emergence of a central feature of the narrative of the Enlightenment in that they encouraged the notion that the "philosophical spirit" of the Scientific Revolution, already present among the educated classes, should guide the necessary reformation of society and government according to the ideals of scientific reasoning.
The Idea of the Sciences also tells an intellectual history of political radicalization, explaining especially how the marquis de Condorcet came to believe that the sciences could play central a role in guiding the outcome of the Revolution of 1789.
Information
Format: Paperback / softback
Pages: 174 pages
Publisher: University of Delaware Press
Publication Date: 08/11/2016
Category: European history
ISBN: 9781611496406
Also by G. Matthew Adkins