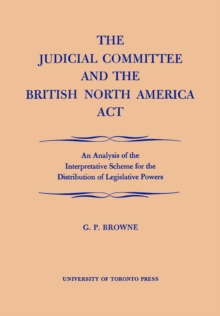 The Judicial Committee and the British North America Act
Paperback / softback
Part of the Heritage series
Description
This comprehensive study is concerned primarily with the fundamental problem of the role of the judiciary in the federal system of Canadian government.
The author criticizes previous accounts of the Judicial Committee's interpretative scheme for the British North American Act because of their neglect of underlying jurisprudential assumptions and their readiness to accept the textual criticisms levelled in the O'Connor Report of 1939; they fail to note the relationship between the jurisprudential and the textual aspects.
Professor Browne is convinced that O'Connor's criticism is as ill founded as the alternative interpretive scheme he proposed, and that the "three-compartment" view represents the most convincing construction of sections 91 and 92 of the Act.
He considers debatable the "organic statute" argument widely accepted in the United States and becoming more and more popular in Canada; and supports the premium which English courts have traditionally placed on certainty and stability in the law. Professor Browne concludes that the almost universal criticism in Canada of the Judicial Committee's construction of the BNA Act is basically misconceived: Canadian jurists should think carefully before following trends set by American courts, for American purposes, in the context of American law, particularly when the repercussions of those trends are not as yet fully appreciated. This discussion will be of special interest for legal, political, and historical studies in this country, the United States, and other Commonwealth countries, especially those which have federal systems and consequently share the same basic problems of the judiciary in such a system.
Information
Format: Paperback / softback
Pages: 264 pages
Publisher: University of Toronto Press
Publication Date: 15/12/1967
Category: Legal history
ISBN: 9781442651579
Free Home Delivery
on all orders
Pick up orders
from local bookshops
Also by G. P. Browne