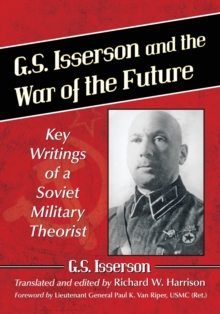 G.S. Isserson and the War of the Future : Key Writings of a Soviet Military Theorist
Paperback / softback
Description
Georgii Samoilovich Isserson (1898-1976) was one of the most prescient and prolific authors on military science in the years preceding World War II.
His theories greatly influenced the Red Army's operations and were instrumental in achieving victory over Germany.
This book gathers together for the first time English translations of Isserson's most influential works, including some that are still classified.
His writings on the preparation and conduct of ""deep operations""--the deployment of tanks, mechanized infantry, air power and airborne troops to penetrate echeloned defenses-also serve as a primer on how to construct a position to defeat such an attack.
His well argued defense of deep operations based on an examination of later wars, and his reminiscences about the people and events that shaped Soviet military theory in the 1930s are included.
Free Home Delivery
on all orders
Pick up orders
from local bookshops