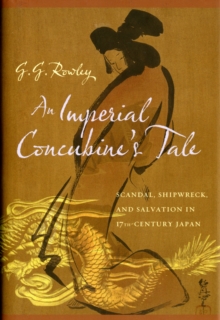 An Imperial Concubine's Tale : Scandal, Shipwreck, and Salvation in Seventeenth-Century Japan
Hardback
Description
Japan in the early seventeenth century was a wild place.
Serial killers stalked the streets of Kyoto at night, while noblemen and women mingled freely at the imperial palace, drinking sake and watching kabuki dancing in the presence of the emperor's principal consort.
Among these noblewomen was an imperial concubine named Nakanoin Nakako, who in 1609 became embroiled in a sex scandal involving both courtiers and young women in the emperor's service.
As punishment, Nakako was banished to an island in the Pacific Ocean, but she never reached her destination.
Instead, she was shipwrecked and spent fourteen years in a remote village on the Izu Peninsula before she was finally allowed to return to Kyoto.
In 1641, Nakako began a new adventure: she entered a convent and became a Buddhist nun. Recounting the remarkable story of this resilient woman and her war-torn world, G.
G. Rowley investigates aristocratic family archives, village storehouses, and the records of imperial convents.
She follows the banished concubine as she endures rural exile, receives an unexpected reprieve, and rediscovers herself as the abbess of a nunnery. While unraveling Nakako's unusual tale, Rowley also reveals the little-known lives of samurai women who sacrificed themselves on the fringes of the great battles that brought an end to more than a century of civil war.
Written with keen insight and genuine affection, An Imperial Concubine's Tale tells the true story of a woman's extraordinary life in seventeenth-century Japan.
Information
Format: Hardback
Pages: 280 pages, <B>11 color illus, 3 maps, 1 chart</B>
Publisher: Columbia University Press
Publication Date: 18/12/2012
Category: Asian history
ISBN: 9780231158541
Free Home Delivery
on all orders
Pick up orders
from local bookshops