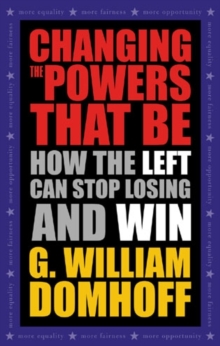 Changing the Powers That be : How the Left Can Stop Losing and Win
Hardback
Description
More equality, more fairness, more opportunity-these are themes on which progressives, now more than ever, could win elections and build social movements.
Yet American progressives too seldom have put themselves in a position to capture the loyalty of American voters.
In his newest book, Domhoff explains why the left's political strategies have failed, and he calls for new strategies and alliances that will lead to political success and a better America. Sure to be widely read and debated, the book reveals how campaigns by Nader and other third-party progressives have been misguided.
Domhoff explains how and why third-party candidacies fail because of the structure of the political system, and then presents a new way for progressives to enter the political arena without compromising their basic values or their emphasis on participation in social movements.
He shows how "planning through the market" holds more potential for freedom and fairness than centrally planned economies.
He also shows how progressives can redefine who is "us" and who is "them" in a way that is more inclusive, allowing people across the class spectrum to support a renewed egalitarian vision. Accessible to anyone interested in American politics and policies, this book offers the political application of Domhoff's renowned theories of American power.
For those who want to spark a dialogue in discussion groups, it is a lively companion reading to his Who Rules America as well as other books on power, inequality or government in America.
Free Home Delivery
on all orders
Pick up orders
from local bookshops