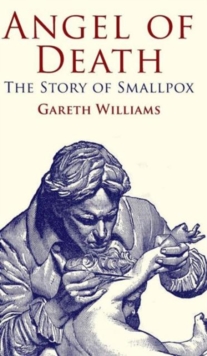 Angel of Death : The Story of Smallpox
Hardback
Description
The story of the rise and fall of smallpox, one of the most savage killers in the history of mankind, and the only disease ever to be successfully exterminated (30 years ago next year) by a public health campaign.
Information
Format: Hardback
Pages: 425 pages, 53 Illustrations, black and white; XX, 425 p. 53 illus.
Publisher: Palgrave Macmillan
Publication Date: 17/05/2010
Category: British & Irish history
ISBN: 9780230274716
Other Formats
Paperback from £10.99
PDF from £9.34
Free Home Delivery
on all orders
Pick up orders
from local bookshops
Reviews
Showing 1 - 2 of 2 reviews.
Review by popolll
16/06/2015
The story of a vision that became a reality. Gareth Williams dramatically brings to life the history of smallpox, its devastating effect across the world on both rich and poor through the centuries, and its eventual defeat. I did not know that, before Jenner invented the safe procedure of vaccination, people were prepared to go through the horrors of variolation which carried a real risk of death. They thought it a better bet than catching a disease which meant an agonising death for many and disfigurement for most of those who survived. Nor did I know that smallpox had its origins in a gerbil pox. Nor that Jenner receives far greater recognition for his contribution outside Britain than in his home country. Once vaccination had been invented and proved effective, proponents had to fight off a backlash, not least from the medical profession which risked losing the lucrative business of administering the more complex and costly procedure of variolation. Anti-vaccination movements developed the strategies and rhetoric which live on in the 20th century with the attacks on the MMR vaccine. An attempt to consign the idea of eradicating smallpox to the long grass by giving the task to an unlikely candidate failed. An underfunded worldwide organisation was cobbled together and, 30 years ago, was able to announce that there were no more cases in the wild. It puts to shame the many bureaucratic multi-national efforts, official and non-governmental, which are carried on today. Williams ends his fascinating story by speculating on the dangers posed, in our unstable world, by the remaining stocks of smallpox virus which various governments have chosen to keep. All this, and much, much more, awaits you in this exciting and compelling volume.
Review by kidzdoc
16/06/2015
Smallpox was successfully eliminated from the human population in 1979, due to — and in spite of — the efforts of physicians, scientists, public officials and private citizens over the past four centuries to rid mankind of one of its greatest killers. The variola virus now exists only in two research centers in the United States and Russia, and it is guarded with the utmost security, as smallpox remains an untreatable and often fatal infection, ready to unleash a reign of terror if it were ever to fall into the wrong hands.Gareth Williams, a professor of medicine at the University of Bristol, expertly and interestingly describes the history of smallpox from antiquity, when its telltale scars were found on Egyptian mummies, to the present day, where its legacy is most notable for the current anti-vaccination movement, particularly in the UK and United States.The story of smallpox is intimately linked with the story of Western civilization and medicine. Its introduction to immunologically naïve native civilizations throughout the Americas decimated their populations and destroyed their cultures, permitting their easy conquest by colonialists. The "discovery" of vaccination by Edward Jenner — which is widely attributed to him but was practiced throughout the world for many years — saved millions of lives since its introduction, and led to the development of vaccines against other deadly pathogens. The study of smallpox was instrumental to the future understanding of microbes as the causative factor of many diseases such as tuberculosis, and the manner in which viruses infect human cells and convert them into virus making factories. Despite his faults, Jenner, a marginally competent clinician and scientist, can rightfully be credited with introducing vaccination to Western medicine. He had many detractors, and fought throughout his life against those who insisted that vaccination was unnatural, ungodly and dangerous. His unyielding insistence that variola vaccination was safe and provided lifetime protection blinded him and his supporters from the cases of smallpox that occurred in previously vaccinated individuals. That, combined with resistance to compulsory vaccination and the draconian measures used to enforce vaccination laws, led to the birth of the anti-vaccination movement, which attracted those with concerns about the safety and efficacy of the smallpox vaccine, along with opportunistic practitioners who sought to make money on unproven methods of prevention and treatment of smallpox, religious conservatives and natural healers who believed that vaccination was immoral and in opposition to God's laws, and civil libertarians that opposed it as a violation of their freedom and right to choose.The main effect of the bitter war between the vaccinationists and anti-vaccinationists was opposition to vaccination, which costs the lives of thousands of children in the 19th and 20th centuries, and the perpetuation of the technique of variolation, in which pus from smallpox lesions was introduced into the skin of uninfected individuals to produce a local infection that was often less severe than the usual disease. Unfortunately many individuals did contract full blown smallpox and died as a result, and those who were not variolated and not previously infected often acquired smallpox from those who underwent this treatment. The anti-vaccination movement grew steadily from the time of Jenner, and continues to exist in the present day West, as current believers continue to use arguments from the 19th century to bolster their case.<i>Angel of Death</i> is an excellent addition to the history of medicine, which is well researched and written, one that would have broad appeal to clinicians, scientists, and anyone else interested in this deadly disease and the birth of the anti-vaccination movement.