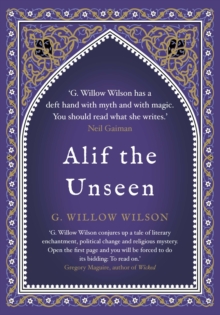 Description
'I will tell you a story, but it comes with a warning; when you hear it, you will become someone else.'He calls himself Alif - few people know his real name - a young man born in a Middle Eastern city that straddles the ancient and modern worlds.
When Alif meets the aristocratic Intisar, he believes he has found love.
But their relationship has no future - Intisar is promised to another man and her family's honour must be satisfied. As a remembrance, Intisar sends the heartbroken Alif a mysterious book.
Entitled The Thousand and One Days, Alif discovers that this parting gift is a door to another world - a world from a very different time, when old magic was in the ascendant and the djinn walked amongst us.With the book in his hands, Alif finds himself drawing attention - far too much attention - from both men and djinn.
Thus begins an adventure that takes him through the crumbling streets of a once-beautiful city, to uncover the long-forgotten mysteries of the Unseen.
Alif is about to become a fugitive in both the corporeal and incorporeal worlds. And he is about to unleash a destructive power that will change everything and everyone - starting with Alif himself.
Information
Format: Hardback
Pages: 448 pages
Publisher: Atlantic Books
Publication Date: 01/09/2012
ISBN: 9780857895660
Free Home Delivery
on all orders
Pick up orders
from local bookshops
Reviews
Showing 1 - 1 of 1 reviews.
Review by hashford
16/06/2015
Alif. The first letter in the Arabic alphabet, also our main character. Of course it's not his real name, no hacker worth his salt would ever use his real name. And that's what he is, (though mostly he just sets up security nets for anyone who'll pay) and all this run from his bedroom where the only way to get sand out of the computer is to use a hairdryer. Then there's his upper class secret wife, ordained online with a print of marriage certificate. This might make Alif sound like some secret agent living on the edge, but really he's just a scared little boy, and when thrust into a strange and dangerous world of djinn, state controlled soldiers and his own horrifically brilliant program he's about to get a lot more scared. But he has to know, what is the mystery behind the book, a thousand and one days.Alif is a very flawed character, he does so little right, and when he does it's usually because of a secondary character telling him to do something else, and I liked this. It was nice to have an idiot at the helm, and this was done skilfully, I never once found myself screaming at the book that he was doing it wrong, except on one occasion, when actually he was doing it right!Overall, a brilliant read that I am happy to recommend to my friends.