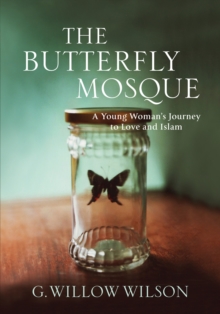 The Butterfly Mosque : A Young Woman's Journey To Love and Islam
Hardback
Description
After taking an Islamic Studies course in Boston, G.
Willow Wilson quietly found herself adopting the tenets of the religion as her own.
This intellectual and emotional exercise created a unique challenge; how could she reconcile a devout and conservative lifestyle with the highly secular society in which she was raised? Taking a leap of faith, Wilson accepted a position to teach English in Cairo, where her guide to the bustling city was a student of astrophysics named Omar.
Led by his passions, she discovered a young and moderate nationalist movement that promoted both tolerance and the celebration of identity.
Omar's ideas and experiences reflected her own search for meaning and in the tangled thicket of their differences and their similarities, an unlikely romance blossomed.
Although Wilson immersed herself in Islamic culture - learning Arabic, worshipping as a Muslim and adopting a veil - she never rejected her Western identity.
Drawing together the values of both cultures, she began to move in the world as a liberal and outspoken Muslim woman, a curious mixture of East and West.The Butterfly Mosque is a riveting personal account, an investigation into what it means to have faith in our broken society.
It is a rare and important insight into the evolving relationship between the boundaries of contemporary religion and culture.
Information
Format: Hardback
Pages: 320 pages
Publisher: Atlantic Books
Publication Date: 01/08/2010
Category: Biography: general
ISBN: 9781843548287
Free Home Delivery
on all orders
Pick up orders
from local bookshops
Reviews
Showing 1 - 2 of 2 reviews.
Review by mrn945
16/06/2015
This was a beautifully written book about the meaning of religion. Ms. Wilson finds herself shockingly connecting to Islam on a primal level - this religion speaks to a part of her deep inside in a way that nothing in her life ever has before. Though she initially struggles with revealing this fact, once she does she is able embrace the religion in a beautiful and meaningful manner.Butterfly Mosque is also about the Ms. Wilson's love affair with Cairo. I've been to Cairo myself, and I understand the appeal of the crowded crazy streets. There is something amazing about being in a place with so much history. Like Ms. Wilson says, behind every wall and building is a hidden treasure waiting to be discovered.The third part of Butterfly Mosque is Ms. Wilson's relationship with her eventual husband Omar. I found it fascinating how they worked through their cultural differences to create a meaningful and loving relationship. While he would be considered conservative by Western standards, Omar was a liberal husband by Egyptian standards and this showed through his interactions with Ms. Wilson. We should all be so lucky as to meet the perfect man.What I loved most about this book though was the discussion about the true nature of Islam. I wrote a paper about this last term where I discussed how Sharia had been distorted to violate women's rights. As Ms. Wilson discusses, Islam is actually quite feminist friendly when taken as the religion was initially intended. Unfortunately, the media has grossly misinterpreted Islam and the intentions of Muslims. Reading books like this becomes incredibly important in order to understand what is happening in the world today.I thought this book was incredible. It was a personal statement about finding one's way through a difficult life in opposition with what everyone else thinks is best for you. It was moving and a testament to the human spirit. I highly recommend this book.
Review by Joilene
16/06/2015
This book was one of the most engaging reads I have had recently. As an American, and a self proclaimed athiest, Willow captivated me with her story of finding such a strong connection to Islam that although she tried to ignore it, she was compelled to learn and accept her beliefs in the religion. Her story is shaped around the egyptian culture that she throws herself into, the city of Cairo which she loves, and finding who she is in a religion that she feels she connects to but do not fully understand. She stumbles, and learns, and she falls in love. Most importantly, I found it refreshing to have a voice from an American Muslim woman, who wanted to fully show the positives and the negatives that she experienced on her path to finding herself spiritually. I adored her and her openess. As a western woman who is connected to Egyptian culture myself, her feelings and descriptions of Cairo, during her first night of Ramadan, still holds with me. An amazing story about a strong independant woman!