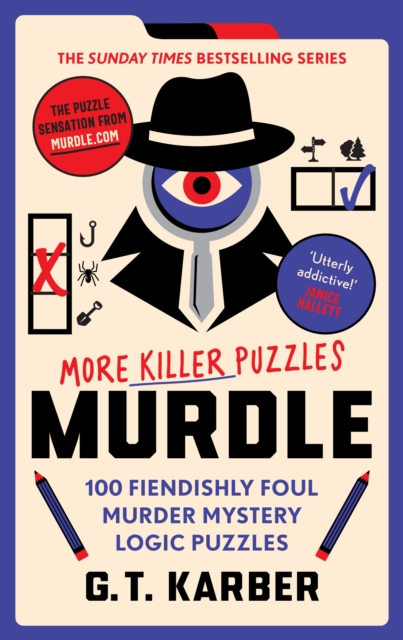 Murdle: More Killer Puzzles : 100 Fiendishly Foul Murder Mystery Logic Puzzles
Paperback / softback
Description
***From THE SUNDAY TIMES BESTSELLING SERIES comes the next book of MURDLE - the 'utterly addictive' murderous puzzle book for armchair detectives everywhere*** 'THE PUZZLE SENSATION OF THE YEAR!' - JANICE HALLETT, bestselling author of THE TWYFORD CODE 'I'M COMPLETELY OBSESSED' - OLIVIA BLACKE, author of A FATAL GROOVEDeductive Logico is back on the scene to investigate muders most foul in Murdle: More Killer Puzzles. These fiendishly compulsive mini-mystery puzzles challenge you to find whodunit, how, where and why.
Join Logico to uncover the buried secrets of the Violet Isles, solve the riddles of an ancient and mysterious scholar, and explore the haunted lands of Drakonia.
Follow the clues, interview the witnesses and use the power of deduction to complete the grid and catch the culprit.
Together, you'll unearth the dark truth beneath each murder and crack the code that can only be decrypted once you've solved them all!Packed with perplexing puzzles, codes and maps, this is the ultimate casebook for the secret sleuth in everyone. Sherlock: Baffled. Poirot: Befuddled. This must be a MURDLE!
Information
Format:Paperback / softback
Pages:384 pages, b/w icons and illustrations
Publisher:Profile Books Ltd
Publication Date:05/10/2023
Category:
ISBN:9781800818057
Information
Format:Paperback / softback
Pages:384 pages, b/w icons and illustrations
Publisher:Profile Books Ltd
Publication Date:05/10/2023
Category:
ISBN:9781800818057
Also in the Murdle Puzzle Series series