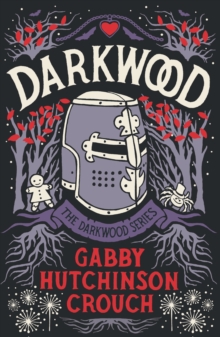 Darkwood
Paperback / softback
Description
Magic is forbidden in Myrsina, along with various other abominations, such as girls doing maths.
This is bad news for Gretel Mudd, who doesn't perform magic, but does know a lot of maths.
When the sinister masked Huntsmen accuse Gretel of witchcraft, she is forced to flee into the neighbouring Darkwood, where witches and monsters dwell. There, she happens upon Buttercup, a witch who can't help turning things into gingerbread, Jack Trott, who can make plants grow at will, the White Knight with her band of dwarves and a talking spider called Trevor.
These aren't the terrifying villains she's been warned about all her life.
They're actually quite nice. Well... most of them. With the Huntsmen on the warpath, Gretel must act fast to save both the Darkwood and her home village, while unravelling the rhetoric and lies that have demonised magical beings for far too long.
Take a journey into the Darkwood in this modern fairy tale that will bewitch adults and younger readers alike. Praise for Gabby Hutchinson Crouch:'Gabby is one of the funniest writers I know.' Sarah Millican'...very funny.
If you like Terry Pratchett, or think gothic fairytales should have more LOLs, 'tis the book for ye.' Greg Jenner'I have read this and it is great.
Pratchetty fun for all the family.' Lucy Porter'...magical, surprising and funny.' Jan RavensWhat people are saying about the Darkwood series:'Clever and funny and so very very entertaining.
I would encourage everyone of every age to go ahead and read Darkwood.''Completely fabulous, can't wait for the rest of the series.''A fun, exciting, action-packed story that once I started reading I couldn't put down.''I loved the mix of humour and fantasy, the tongue in cheek style of writing and the quirky characters.' 'I could go on and on about how much I love this book and why.''A delightful new mashup of old familiar fairy tale characters and themes, with loads of originality and memorable characters. ... I think this may well turn into one of my all-time favourites.''...incredible!
It made me laugh out loud in several places, but also managed to pull off some intricate themes around power and bigotry - I adored the characters and the fun, genre-savvy writing.'
Information
Format:Paperback / softback
Pages:288 pages
Publisher:Prelude Books
Publication Date:13/06/2019
Category:
ISBN:9781788421416
Also by Gabby Hutchinson Crouch
Also in the The Darkwood Series series