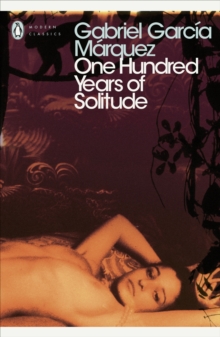 One Hundred Years of Solitude
Paperback
Description
Equally tragic, joyful and comical, Gabriel Garcia Marquez's masterpiece of magical realism, One Hundred Years of Solitude is a seamless blend of fantasy and reality, translated from the Spanish by Gregory Rabassa in Penguin Modern Classics. Gabriel Garcia Marquez's great masterpiece is the story of seven generations of the Buendia family and of Macondo, the town they have built.
Though little more than a settlement surrounded by mountains, Macondo has its wars and disasters, even its wonders and miracles.
A microcosm of Columbian life, its secrets lie hidden, encoded in a book and only Aureliano Buendia can fathom its mysteries and reveal its shrouded destiny.
Blending political reality with magic realism, fantasy with comic invention, One Hundred Years of Solitude is one of the most daringly original works of the twentieth century. Gabriel Garcia Marquez (b. 1928) was born in Aracataca, Colombia. He is the author of several novels, including Leaf Storm (1955), One Hundred Years of Solitude (1967), The Autumn of the Patriarch (1975), Chronicle of a Death Foretold (1981) and The General in His Labyrinth (1989).
He was awarded the Nobel Prize for Literature in 1982. If you enjoyed One Hundred Years of Solitude, you might like Love in the Time of Cholera, also available in Penguin Modern Classics. 'With a single bound Gabriel Garcia Marquez leaps on the stage with Gunter Grass and Vladimir Nabokov ...dazzling' The New York Times
Information
Format: Paperback
Pages: 432 pages
Publisher: Penguin Books Ltd
Publication Date: 17/06/2000
ISBN: 9780141184999
Other Formats
Paperback from £7.65
Hardback from £10.19
EPUB from £4.99
eAudiobook MP3 from £20.96
Free Home Delivery
on all orders
Pick up orders
from local bookshops
Reviews
Showing 1 - 5 of 5 reviews.
Review by dylanwolf
16/06/2015
The world's greatest opening sentence - Many years later, as he faced the firing squad, Colonel Aureliano Buendia, was to remember that distant afternoon when his father took him to discover ice - is followed by possible the world's greatest novel. Set in the fictional village of Macondo in Colombia One Hundred Years of Solitude is the saga of the Buendia family. A novel of failing memory and repeated mistakes this book rewards the reader with a rich and satisfying tale incorporating Marquez's famous magical realism. For ice in hot climes elsewhere and a totally different book try Paul Theroux's Mosquito Coast.
Review by nicoyu
16/06/2015
A story of Buendia family. Mixed up with magic world, such as gypsy magicians, and real world, including plague, war, and civilization.The way that Marquez described life and death is very poetic, and attracts me most.
Review by soylentgreen23
16/06/2015
Wow. What a book! I can hardly believe that a single volume of words printed on paper could be this powerful, and yet, here I am, weeks after having turned the last page, and I am still lost in thought because of it. Wow.
Review by keithkv
16/06/2015
This book is absolutely amazing. I read it years ago (long before Oprah's book club made it popular), but felt the urge to re-read it again this past year. Anyone who knows me knows that this must be one hell of a book to make me pick it up again, because most of the time I've neither the time nor the will to undertake a novel a second time. I just can't get enough of this book. Throughout the entire novel, as Mr. Marquez takes you through generation upon generation of confusingly like-named characters (he kindly puts a family tree in the beginning of the book to help you keep the multitude of Aurelianos straight...be prepared to refer to it many times), you feel two conflicting emotions. One, you are entertained by the crazy, fable-like events that befall this one semi-magical family. Two, you keep having this nagging feeling in the back of your mind that says, "Where exactly is this story going anyways?" Only upon reading the final chapter of this book (even the final few pages really) do you discover how perfectly everything comes together into one seamless masterpiece. Trust me, the last chapter is worth the 600-odd pages that precede it. Wow, I want to go read it again.
Review by Peter_Forster
16/06/2015
A novel that is made entirely worthwhile by the stunning final few pages in which the whole novel telescopes into the moment of reading. At once a sweeping exploration of Columbian history and a beautifully woven tapestry of banal magic and the magic of the banal. Of course, it must be said that this is an incredibly confusing novel and so the reader is left a little like Aureliano--spending the whole book trying to decipher what is going on only to find that he is "deciphering as he lived it, prophesying himself in the act of deciphering the last page of the parchments, as if he were looking into a speaking mirror." This is perhaps what the novel is really about, and the hundred years of solitude required to get through its 400 hundred odd pages are consequently ultimately worthwhile.
Also by Gabriel Garcia Marquez | View all
Also in the Penguin Modern Classics series | View all