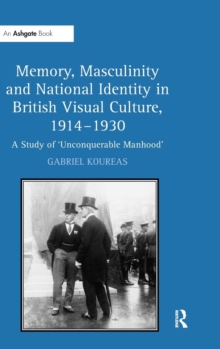 Memory, Masculinity and National Identity in British Visual Culture, 1914-1930 : A Study of 'Unconquerable Manhood'
Hardback
Description
With its specific focus on British representations of masculinity in relation to the trauma of the First World War and notions of national identity, class and sexuality, this book provides a much needed addition to the historiography of visual culture during the period.
The study interrogates the complications arising out of issues of trauma, cultural expressions of sexuality and affect, as well as the ways in which these are encoded in diverse forms in visual culture and commemorative objects.
Concentrating on masculinity and cultural memory, it investigates the ways in which these and the web of power relations that they entail worked during the interwar years in order to reconstruct the post-First World War British society. In the course of the narrative, the author looks at Bolshevism and the Returning Ex-Servicemen, the 1919 NUR Strike, the Central Labour College in conjunction with banners and revolution, as well as the Imperial War Graves, the Cenotaph, the London and North Western Railway memorial, the Machine Gun Corps Memorial and the establishment of the Imperial War Museum.
He also excavates new archival material, particularly case studies of shell shock sufferers and film footage of male hysteria.
Other Formats
Paperback / softback from £39.19