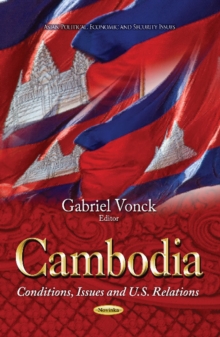 Cambodia : Conditions, Issues & U.S. Relations
Paperback / softback
Description
The United States and the Kingdom of Cambodia have been expanding their once-limited ties for a number of years, although U.S. concerns about Cambodia's human rights record still limit the scope of the bilateral relationship.
The Obama Administration has taken steps to broaden engagement with Cambodia, partly in response to China's growing diplomatic and economic influence in Cambodia and the Lower Mekong Delta region.
U.S. interests in Cambodia include promoting development, trade and investment, regional security, civil society, democracy, and human rights.
U.S. military engagement with Cambodia has increased as well.
These include naval port visits, military assistance, and joint exercises related to international peacekeeping, humanitarian activities, and maritime security.
A key challenge for U.S. policy toward Cambodia lies in balancing efforts to engage the Kingdom on many fronts while promoting democracy and human rights.
This book provides an overview of current issues, conditions and U.S. relations with the Kingdom of Cambodia.
Information
Format: Paperback / softback
Pages: 75 pages
Publisher: Nova Science Publishers Inc
Publication Date: 25/11/2013
Category: Politics & government
ISBN: 9781628089158