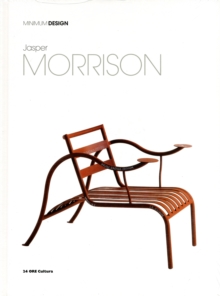 Jasper Morrison: Minimum Design
Hardback
Description
Part of the Minimum Design series on iconic designers. Born in London, 1959, Jasper Morrison is a British designer renowned for injecting a quietly humorous style into his designs which range from chairs, tables and lamps to the more challenging tram that he designed for the city of Hanover.
After graduating in Design at Kingston Polytechnic and the Royal College of Art, Morrison opened his office in London where he reworked the 'anonymous' object with the intention of playing with the rules of 'form'.
Even in the early stages of his career Morrison followed his decision to design for industrial production and was keen to utilize ready-made industrial components.
His constant enhusiasm to embark on collaborations with fellow designers has allowed him to commission many products from them, being allowed by his clients to experiment with many differing materials and technologies.
Rather than striving for the excess that upsets most contemporary design, Morrison suggests the concept of the super normal which is clearly visible in the profuse theoretical production that is embodied by his work. Published in the same style as the successful Minimum Architects series, the Minimum Design series includes books about the major figures in the field of design, creators of objects that have become a part of our daily lives.
The lamp on our desk, the chair we are sitting on or the glasses we are wearing have a genius behind them to be discovered.These volumes introduce in a practical manner the personalities and the works of the world's major designers by way of an historical-critical introduction to the work and life of each individual designer.
An accurate selection of the designer's most famous objects arranged in chronological order and a critique of his or her work summarizing the most significant reviews published in magazines and newspapers completes the subject. Contents: Jasper Morrison: Fulvio Irace; A Super Normal Designer; Catalogue of Objects; The Objects; Interview; Critique; Selected References. Also available in the Minimum Design series: Achille e Pier Giacomo Castiglioni ISBN:9788866480259; Philippe Stark ISBN: 9788861161405; Franco Albini ISBN: 9788861161412; Joe Colombo ISBN: 9788866480051; Tom Dixon ISBN: 9788866480020; Gio Ponti ISBN: 9788861161429; Ettore Sottsass ISBN: 9788866480273; Ron Arad ISBN: 9788866480266; Alessandro Mendini ISBN: 9788866480280; Carlo Mollino ISBN: 9788866480877; Stefano Giovannoni ISBN: 9788866480525; Eero Saarinen ISBN: 9788866480549.
Information
Format: Hardback
Pages: 120 pages, 100 colour illustrations
Publisher: 24 ORE Cultura s.r.l
Publication Date: 15/08/2012
Category: Individual designers
ISBN: 9788866480297