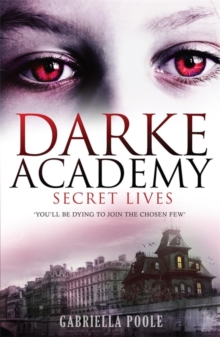 Description
The Darke Academy is a school like no other. An elite establishment that moves to an exotic new city every term, its students are impossibly beautiful, sophisticated and rich. And the more new scholarship girl Cassie Bell learns about the Academy, the more curious she becomes. What sinister secrets are guarded by the Few - the select group of students who keep outsiders away?
Who is the dark stranger prowling the corridors at night? And what really happened a year earlier, when the last scholarship girl died in mysterious circumstances?
One thing Cassie will discover is that a little knowledge may be a dangerous thing, but knowing too much can be deadly...
Information
Format: Paperback
Pages: 288 pages
Publisher: Hachette Children's Group
Publication Date: 06/08/2009
Category: General
ISBN: 9780340989241
Free Home Delivery
on all orders
Pick up orders
from local bookshops
Reviews
Showing 1 - 5 of 6 reviews.
Previous | Next
Review by wyvernfriend
16/06/2015
Cassandra (Cassie) Bell is a scholarship girl at the mysterious and elite Darke Academy. She can see that there is a dangerous undercurrent and dangerous elite in the school, she's wary of bullies but also realises that this school may be her only chance out of the bottom rung of society.It's an interesting story of a strange school but it seems to skim off the issues Cassie may have had and her life in the school.
Review by scriberscouse
16/06/2015
Darke Academy is a very young adult novel and the beginning of a new series which attempts to emulate the success of other paranormal creatures mixed with boarding school fare such as Richelle Mead's Vampire Academy and PC Cast's House of Night. Unfortunately, when compared with Cast's unique take on vampires and Mead's dark, gothic and sexy vampire academy - Dark Academy just doesn't compare. This is a very junior young adult novel more suitable for 10-12 year olds rather than the late teen market the Cast and Mead novels are aimed at. Darke Academy is an exclusive boarding school with a difference in that each term the school relocates to a new exotic city. When Cassie a British teen who has grown up in foster care begins her first term at Darke Academy in Paris she finds herself thrown into a completely new world some of which isn't as wholesome as it seems. There is a select group called the Few populated by the gorgeous, the rich and the privileged who seem to be harbouring a dark secret that involves preying upon the weaker. When eerie events spark Cassie's curiousity she realises she must become one of the Few to get to the bottom of a year old murder involving the previous scholarship girl and fight her growing attraction to Ranjit who may have been involved. In terms of plot the story is patchy, the characterisation is sporadic and although Cassie is the more sympathetic of the cast the characterisation as a whole is one dimensional. The boarding school angle is mere window dressing and other than an excluse to globetrot the idea that this exclusive boarding school relocates every term is ludicrous and plainly a gimmick. The big reveal and sinister secrets of the Few feel rushed and ill thought out. Overall this has little to recommend it. Of interet to very young readers only.
Review by MrsBakitch
16/06/2015
Very exciting and mysterious read about Cassie who is a new student at Darke Academy. With a school's name like that you can only expect a creepy story like this.
Review by readerworm12345
16/06/2015
This was a really great series i can't wait to read the third book. It was a really good. At first it was kind of confuzing and I didnt really understand what was going on but by the end of the first book it kind of made sense and by the end of the third book it all made sense. I would recomend its book to anybody that likes fantasy and of fiction books. 
Review by littleton_pace
16/06/2015
Really quite enjoyed this! :) As a first novel of a series, it does well setting up what to expect in future volumes. I like the lead character, Cassie, she's a rough, snarky girl who isn't easily rattled. I'm coming off a string of reading YA books with a wimpish female lead, so to read a spunky one is refreshing!Lots of stuff is kind of left up in the air, which I expect of a first novel, and I'm eager to get into the nuts and bolts of it all. This was very much a gloss over the story, the real stuff is (hopefully) still to come.I will say I did not care for Ranjit's immediate admission to Cassie the first time he speaks to her that he can't handle his feelings for her. It came out of left field and made no sense. I do like that he's weird and strange, and there's no love triangle. At least, I hope it doesn't develop into one with Jake :SAll in all its a very PG take on the whole teen romance/supernatural boarding school thing. Not a lot of darkness, but its a fun and easy read. Very curious as to what exactly these "people" are, soul-suckers? Ordered book 2, awaiting its arrival. :)
Also in the Darke Academy series | View all