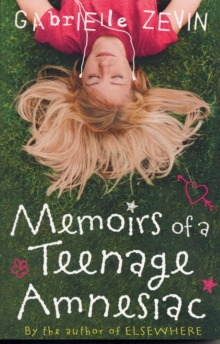 Memoirs of a Teenage Amnesiac
Paperback
Description
When Naomi tries to piece back the fragments of the last three and a half years of her life, she discovers a lot.
She has a boyfriend but can't remember him, her mother and father are divorced, and she has forgotten that she is supposed to hate her mother.
She also has a group of friends which simply doesn't seem that attractive any more and, despite having meticulously kept a diary, she only mentioned what she ate every day in it!
But it's not all bad, because when a girl loses three and a half years she gets a chance to reinvent herself.
After all, who is to say that everything has to be the same?
Information
Format: Paperback
Pages: 288 pages
Publisher: Bloomsbury Publishing PLC
Publication Date: 17/09/2007
Category: General
ISBN: 9780747591658
Free Home Delivery
on all orders
Pick up orders
from local bookshops
Reviews
Showing 1 - 5 of 5 reviews.
Review by CaroTheLibrarian
16/06/2015
When 16 year old Naomi falls down some steps she loses any memory of the last 4 years of her life. She doesn't know that her parents have divorced or that she and her dad have moved house. She doesn't know that she has a boyfriend, and doesn't recognise her best friend Will when he comes to visit in hospital.The book is split into 3 parts: I was, I am and I will, and follows Naomi as she attempts to make sense of her past, present and future. As she relearns about herself she realises that she may not want to pick things up where she left off. A coming of age novel with an excellent set of characters and an unusual plot.
Review by FabulousandFeminist
16/06/2015
I borrowed this from the library purely because it had been on the suggestions stand for a while. It wasn't until I got home that i noticed it was Gabrielle Zevin.I think Elsewhere is more beautiful, brings tears to your eyes but this one felt more real, like even though you don't have a life anything like that you begin to become a part of it. I never expected what came next and I loved the way it was doe without trying to make this girl too perfect or two faulty. She felt like a real person. Brilliant.
Review by fluteflute
16/06/2015
Fun book that kept me reading, although nothing remarkable.
Review by nicola26
16/06/2015
I quite enjoyed this one. I thought the idea of the story was excellent, and I haven't read anything like it before. Naomi was very irritating at parts, and came across as very selfish as she was stringing along three guys at once. Will was my favourite character, and he was developed really well. I'm giving it four stars because it really pulled me in from start to finish, but at the same time, I wasn't fond of the main character, nor did I like reading it from her perspective. It was a good read, and lived up to my expectations.
Review by katie1802
16/06/2015
This book was pretty intriguing, its hard to help but wonder what it would be like to take a look at yourself from an almost outside perspective, to get a fresh start and be able to be a whole new person. This is what Naomi gets to do since she lost her memory in an accident, can't remember the last four years of her life, and realises that maybe she doesn't want to remember the person she had become.<br/><br/>Its a great book, with some interesting characters and a great plot to back it up.