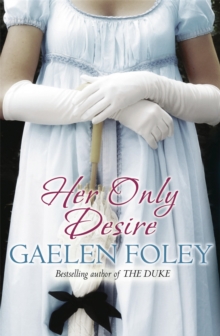 Her Only Desire : Number 1 in series
Paperback
Description
Ian Prescott, the Marquess of Griffith, is a cool-nerved British diplomatic renowned for his integrity, and famed among the British debutantes for his striking good looks.
Much to their dismay, the handsome marquess has no use for love.
He conceals a dark secret surrounding his disastrous first marriage and the death of his wife and has vowed never to marry again.
On a diplomatic trip to India, Ian is asked to watch over the daughter of an old family friend, Miss Georgiana Knight.
He is instantly intrigued by Georgiana's striking beauty that conceals a sharp mind and a shocking independence.
A ruling belle of local society in India, Georgiana is out of her element in London and yet she's determined to conquer the ton on her own, refusing Ian's protection every step of the way. Ian is infuriated by Georgie's wilful defiance, as much as he is captivated by her natural charms.
Information
Format: Paperback
Pages: 480 pages
Publisher: Little, Brown Book Group
Publication Date: 01/05/2007
Category: Historical romance
ISBN: 9780749937942
Free Home Delivery
on all orders
Pick up orders
from local bookshops
Reviews
Showing 1 - 2 of 2 reviews.
Review by wyvernfriend
16/06/2015
This is an interesting story split between India and England. Ian Prescott, the Marquis of Griffith, is a man with a mission, he has to try and prevent war, keep the empire in India running smoothly. He runs into the daughter of an old family friend, Georgiana Knight, and finds himself interesting and embroiled in her escapades, while she helps him.At the end of their escapades she has to flee to London, finding herself in an alien world. The two of them find themselves getting closer and closer but can she break through the shell he has constructed since the death of his first wife.It's a fun read and I really cared for the characters and what was going on with them. I look forward to reading more by the same author.
Review by Anniik
16/06/2015
The action of this book opens in India with our heroine, Georgiana Knight, rushing in where angels fear to tread in order to save an Indian friend from a bride-burning. She is rescued by English diplomat Ian Prescott, the Marguess of Griffith. The absurdity continues from there into a weak and unbelievable plot that includes Georgiana arriving on the back of an elephant to visit an Indian king, the murder of an Indian prince, a triumphant return to England, and the kidnapping of the Marquess' son. The point of the plot? I'm really not quite sure. It's complicated, convuluted, and honestly not terribly interesting.The love story also is incredibly weak. Georgiana is a completely unbelievable character (she would fit in better in NOW than in the 19th century) and Ian is the dime-a-dozen cardbord cutout tortured romantic hero with a dark past. We are not shown the love story, we are told that it happens - as unbelievable that it might be that Ian is attracted to this supremely annoying girl. There is no emotional involvement with the characters (at least not for me), the characters speak as if it took place in 20th century America, and even that is stilted and forced.Oh yeah, and I don't have a clue where the title came from. Huh?Don't waste your time.
Also in the Spice Trilogy series