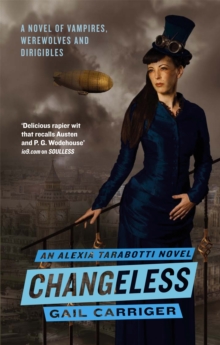 Changeless : Book 2 of The Parasol Protectorate
Paperback
Description
Alexia Tarabotti, now Lady Maccon, awakens in the wee hours of the mid-afternoon to find her husband, who should be decently asleep like any normal werewolf, yelling at the top of his lungs.
Then he disappears - leaving her to deal with a regiment of supernatural soldiers encamped on her doorstep, a plethora of exorcised ghosts, and an angry Queen Victoria. But Alexia is armed with her trusty parasol, the latest fashions and an arsenal of biting civility.
Even when her investigations take her into the backwaters of ugly waistcoats, Scotland, she is prepared: upending werewolf pack dynamics as only A soulless can. She might even find time to track down her wayward husband, if she feels like it.***Also available as a manga adaptation***
Information
Format: Paperback
Pages: 320 pages
Publisher: Little, Brown Book Group
Publication Date: 02/09/2010
ISBN: 9781841499741
Free Home Delivery
on all orders
Pick up orders
from local bookshops
Reviews
Showing 1 - 4 of 4 reviews.
Review by riverwillow
16/06/2015
Like the first book in the series this is a fast and funny read. I particularly love Alexia's relationship with her best friend Ivy, who is always completely oblivious to what's going on around her and this leads to some moments of pure hilarity. I can't wait to start the third book.
Review by wyvernfriend
16/06/2015
Something is neutralising the abilities of Werewolves and vampires and exorcising ghosts. It has passed through London and now appears to be lodged with Alexia's husband's former werewolf pack. He goes to investigate, leaving her behind, she decides to follow and mayhem ensues.It's a funny series and this is no exception. I love Alexia, she comes across as a soul-sib of Amelia Peabody from Elizabeth Peters' series. There are moments where it doesn't flow as well as it might, but overall I enjoyed the read.
Review by GingerbreadMan
16/06/2015
Hm, no, this was disappointing. What I enjoyed the most about Soulless was Carriger's neat construction of a Victorian society where werewolves and vampires were integrated. It was organically and interestingly done, and told with a wit that masked a plot that perhaps wasn't all that breathtaking. Here the world is already more or less in place, and unfortunately this leaves me with a thin storyline (what actually goes on in this book could be summed up on a postcard, leaving room for doodles) and a cast that is more often than not one-dimensional.The budding love story between Alexia and Maccon, motored by constant bickering and a lot of surpressed urges, was dynamic and fun in the first book. Here it is replaced with a hundred wink-wink descriptions of Maccon growling and getting rid of Alexia's nightgown, Alexia swatting him pretending not to be aroused, followed by endless nibbling on her neck. It quickly becomes old. I'm not a big fan of explicit sex scenes, but here I find myself longing for a page long detailing of doggy style – if only to break the pattern.Other over-used elements include Alexia's friend Ivy (whom it really seems like Carriger doesn't know what to do with, since she doesn't add anything anywhere and is constantly explicitly ignored), easily one of the most irritating characters in fiction, constant references to our heroine's plump figure and ample bosom and the strained witty banter between husband and wife. It isn't all bad. Carriger's world building continues to be interesting, there is a good sense of tounge-in-cheek humor, and Alexia is still a rather fresh heroine. I just hope the next book (which I'll read, but with some caution) will be less about patterns and more about story.
Review by soliloquies
16/06/2015
The second in the Parasol Protectorate series and this is just as entertaining as the first. Alexia is now married to Lord Maccon and working for Queen Victoria. A strange occurrence has rendered the supernaturals unable to change and Alexia, Ivy Hisselpenny, Felicity, Tunstall and Madame LaFoux take a dirigible to Scotland. This does not make for a pleasant journey! Great writing, lots to enjoy and we are discovering more about these characters.
Also in the Parasol Protectorate series | View all