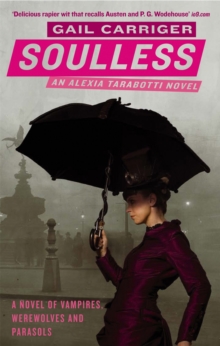 Description
Alexia Tarabotti is labouring under a great many social tribulations.
First, she has no soul. Second, she's a spinster whose father is both Italian and dead.
Third, she was rudely attacked by a vampire, breaking all standards of social etiquette.
Where to go from there? From bad to worse apparently, for Alexia accidentally kills the vampire - and then the appalling Lord Maccon (loud, messy, gorgeous, and werewolf) is sent by Queen Victoria to investigate.
With unexpected vampires appearing and expected vampires disappearing, everyone seems to believe Alexia responsible.
Can she figure out what is actually happening to London's high society? Or will her soulless ability to negate supernatural powers prove useful or just plain embarrassing?
Finally, who is the real enemy, and do they have treacle tart?
SOULLESS is a comedy of manners set in Victorian London: full of werewolves, vampires, dirigibles, and tea-drinking. ***Also available as a manga adaptation***
Information
Format: Paperback
Pages: 320 pages
Publisher: Little, Brown Book Group
Publication Date: 02/09/2010
Category: Fantasy
ISBN: 9781841499727
Other Formats
Paperback from £6.65
EPUB from £4.99
Free Home Delivery
on all orders
Pick up orders
from local bookshops
Reviews
Showing 1 - 5 of 6 reviews.
Previous | Next
Review by litaddictedbrit
16/06/2015
What do you say about a book that is reviewed (and adored) widely? Well, add to the cacophony of praise, obviously! I bought this some time ago after reading the first chapter somewhere online (I forget where...) but then saw a lot of reviews for it that essentially touted it as a must-read of its genre(s). I'm not one to avoid something simply because it's hyped because I think that's a solid way to miss something truly fabulous - cutting your nose of to spite your face, if you will. Sometimes the hype is for a reason, you know? ANYway, the reason I didn't want to read it right away was because I was getting too excited and figured that could only end in disappointment. How wrong I was! This is one instance in which the hype is most definitely true. If I had finished this in 2010, it would have been most definitely one of my favourite reads of the year. As it happens, it is to date my favourite of the year by virtue of being the only book I've finished but that's inane so let's not go there...I instantly adored Alexia - the history of England is blighted with insipid women who were so repressed they didn't even form opinions, never mind express them. Obviously by Queen Victoria's reign this was abating a little but women whose prime concerns were taffeta and tea were still prevalent. Alexia is fantastic. She isn't rebellious, as such, but she is firm-willed, strong, opinionated and even, heaven forbid, well informed in the matters of science! All while maintaining some sense of decorum and propriety. Her wit is unfailing and her sarcastic (and other) barbs were a highlight of the book for me (her comments on friend Ivy's hats are hilarious!)This book was also no doubt enhanced by the fact that I was in love with Lord Maccon - a hunky, muscly werewolf who is also an Earl? Yes, please...he's rugged and moody and delicious and...! I digress...The interaction between him and Alexia was another high point of the book for me. It had me giggling all the way through and was extremely well portrayed. Although I haven't mentioned them all - the supporting characters are equally awesome and the balance between them all is as seamless as the rest of this novel!Another thing I liked (yes, another!) was that the paranormal and mystery elements held equal sway. The supernaturals aren't stereotypical and their history and evolution is detailed without being overly romanticised. I liked the addition of ghosts along with the usual suspects too. The mystery is intriguing and surprising of itself too, regardless of the supernatural element, which made for quite a "realistic" feel. By that I mean that the tone is impeccable - social observations, nonsense trends and speech included - and I felt like I was reading a genuine Victorian novel which just happened to have a bit of a new slant. As though the Bronte sisters lived alongside vampires and werewolves but nobody ever mentioned it...Overall: This book is absolutely superb - I was absolutely hooked from the start and kept giving myself that "just one more section" talk. The book isn't overly long either at a snip under 300 pages - not nearly long enough for me to feel like I was done with Alexia et al so I immediately started Changeless...this series is nigh on perfect so far! Go read it and giggle your bustle off!
Review by EvaElisabeth
16/06/2015
I bought this series on foot of a recommendation on Librarything on the off chance that I would like it. I read all three books in 2 days. I enjoyed them tremendously and am hoping more come out under this series.If you like steampunk and comedies of manners mixed with a bit of vampire/werewolf action these are for you. It's Georgette Heyer crossed with HG Wells and Bram Stoker.
Review by riverwillow
16/06/2015
A fast, funny read set in an alternative Victorian London, where werewolves, vampires and other supernatural beings live openly. Alexia Tarabotti, although outwordly normal is a preternatural, a human born without a soul who can temporary strip a vampire or werewolf of their supernatural abilities by touching them. Although Alexia is not a normal Victorian girl, she's a bit of a bluestocking and her looks have confined her to the shelf, I loved how Carriger showed her Victorian sensibilities throughout her charged encounters with the Werewolf Alpha, and BUR agent, Lord Maccon. Wonderful.
Review by phoebesmum
16/06/2015
The first book in what turned out to be a wildly successful franchise. I'm at a loss to understand why, since I found it so bad - to the extent where the author occasionally uses the wrong word altogether - as to be literally unreadable.
Review by soliloquies
16/06/2015
This is fun! Victorian etiquette, steampunk, werewolves, vampires and a tea obsession. What more could you need? Oh, parasols! A genuinely funny book which follows the adventures of Miss Alexia Tarabotti, a preternatural, following her accidental killing of a vampire. A great array of secondary characters such as Lord Akeldama and Floote make this a magical world. Yes, there are anachronisms, but this is fantasy after all.
Also in the The Parasol Protectorate series