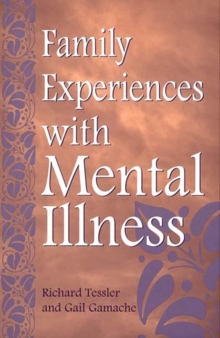 Family Experiences with Mental Illness
Hardback
Description
Tessler and Gamache provide substantial research on the impact of mental illness on the family through interviews conducted with hundreds of family members between 1989 and 1997.
According to the authors, how families experience the mental illness of a relative depends on many social factors, including how public mental health services are organized and financed, and whether families feel judged or supported by professionals.
Most family members experience a range of emotions toward one another ranging from warmth and gratification to anger and rejection.
Tessler and Gamache detail the family experience with mental illness in terms of both negative and positive feelings.
They take a holistic approach to the family experience and present a variety of family responses and dilemmas.
The family members whose stories are told are diverse in respect to race, gender, age, and relationship, and the demographic-clinical characteristics of their relatives with mental illness.
Tessler and Gamache find that the amount of burden that family members experience depends, in part, on which dimension of burden is being addressed. When burden is defined as assistance in daily living, it is less than what was thought.
On the other hand, the subjective burden associated with supervision and control is substantial.
Family role and residence contribute to most dimensions of burden.
For example, a mother living with an adult son with schizophrenia will experience mental illness differently than the brother who has moved out of the family home and moved to another state.
In both studies, a major finding involved lower than expected expenditures by family members for medication and mental health treatment in both studies.
Most expenditures were focused instead on personal or survival needs, which for a sub-sample of family members involves considerable expenditures.
This work is an important research finding for scholars, students, and professionals involved with social work, public health, and public mental health policy.
Other Formats
PDF from £27.54
Paperback / softback from £23.55
Free Home Delivery
on all orders
Pick up orders
from local bookshops