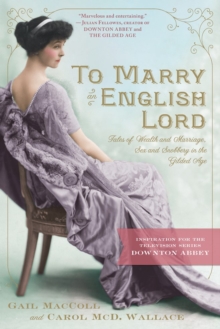 To Marry an English Lord : Tales of Wealth and Marriage,Sex and Snobbery
Paperback
Description
From the Gilded Age until 1914, more than 100 American heiresses invaded Britannia and swapped dollars for titles - just like Cora Crawley, Countess of Grantham, the first of the Downton Abbey characters Julian Fellowes was inspired to create after reading To Marry An English Lord.
Filled with vivid personalities, gossipy anecdotes, grand houses, and a wealth of period detail - plus photographs, illustrations, quotes, and the finer points of Victorian and Edwardian etiquette - To Marry An English Lord is social history at its liveliest and most accessible.
Information
Format: Paperback
Pages: 416 pages
Publisher: Workman Publishing
Publication Date: 01/03/2012
Category: British & Irish history
ISBN: 9780761171959
Free Home Delivery
on all orders
Pick up orders
from local bookshops
Reviews
Showing 1 - 5 of 6 reviews.
Previous | Next
Review by mt256
16/06/2015
To Marry an English Lord by Gail MacColl and Carol McD. Wallace is an introspective look into the lives of American heiresses who took over England by marrying into English society during the Victorian and Edwardian age. This book is also the inspiration behind the series, Downton Abbey.I can't begin to praise this book enough. It's not only informative and educational but it's also very entertaining. The authors did a wonderful job putting this book together. It has everything from loads of information to pictures, fashion to gossip, quotes to the inside scoop on what was what during this time period. Duke's and Earl's married American's basically for their money. American and English society were alike in some respects but also very different. The money, the right clothes didn't mean a whole lot until you knew the right people. Prince Edward was a great advocate to the American heiress. If they received his approval the heiress was golden.I'm absolutely fascinated by this time period. This book is a must have for people who want to find out more about this time period. It's well written and very informative. If you're looking for a book to read while you wait for the next season of Downton Abbey, this is the book for you.
Review by NewsieQ
16/06/2015
After reading a book about the Churchill families – including details about the marriage of Winston's American mother and British father, I picked up this book, which I had bought awhile ago. It was just a perfect follow-up for me – with its short bursts of lively text interspersed with captioned photos and interesting tidbits.Typically, I'm a more linear reader, not prone to go off on tangents while I'm concentrating on a book. But with To Marry an English Lord, I had to change my approach. I first read all the sidebar stories and photo captions in an entire chapter (there were five chapters plus a sixth that was a directory of the American brides) then go back and take on the text in a large bite. It was a fun read and quite enlightening.I especially liked many of the sidebars, including "Their Noble Lordships" (explaining, among other things, the difference between a Duke and the "mere sirs") and another on the cost of maintaining an old castle/estate (and, therefore, why the Dukes needed infusions of money from their heiress wives). Many of the sidebars were on the social milieu among the 1% in post-Civil-War America. As a fan of Downton Abbey, I found To Marry an English Lord enlightening and interesting and eminently readable.
Review by Pmaurer
16/06/2015
Interesting companion to Downton Abbey, but print version was wayyyyyyyyyy too long. Second half seemed very repetitious, and didn't provide much information. Contained information about the 50 year history involved in purchasing English titles. Explained meaning of titles, etc.
Review by Jaylia3
16/06/2015
This book, a cultural history of American heiress marrying English Lords, is just plain fun and fascinating. The Kindle version is currently on sale in the US, but To Marry an English Lord is so lavishly illustrated with photos and drawings on every page that I can't imagine reading an ebook copy. By the late 1800's--early 1900's there was a growing number of young ladies in the US who had lots of family money, but who couldn't break into proper American "Society" because being nouveau riche they had no social status. At the same time across the Atlantic noble British families were having trouble paying for the upkeep and modernization of their estates--which is understandable since it wasn't considered proper for the aristocracy to work--so marriage between the two groups made sense, but whoa! The culture shock! All of which is entertainingly recounted in this book.After growing up in a fancy, almost palace-like mansion the American heiress often started married life in her British husband's dark, deteriorating ancestral manor without indoor plumbing. The large (and very interesting) contrasts in attitudes about married life, gender roles, infidelity, money, servants, and politics further complicated her assimilation into her new life. There were a variety of ways to cope and the book delves into the personal stories of many of the women, including Jennie Jerome Churchill (mother of Winston) and Consuelo Vanderbilt. To Marry an English Lord makes lively use of its rich historical material and is full of fruitful background information for further enjoying fiction and film. Edith Wharton and Henry James used the Victorian-Edwardian era tension between British and American customs in their novels and Julian Fellows, the creator of Downton Abbey, says this book inspired the Cora character in that series.
Review by Cariola
16/06/2015
The best thing about this book is the many photographs included; too bad it wasn't just designed as a coffee table book. I was fairly engaged by the early chapters, which detailed the first wave of American heiresses going abroad (mainly to England) in search of titled husbands. But once I got past Jennie Jerome, Consuelo Vanderbilt and a few others, their stories became repetitive, and in fact, the remainder of the books became repetitive. It's not just that the women's stories were all similar; MacColl actually recaps the SAME stories two, three, even four times in subsequent chapters. Then there are all those horrendous alphabetical lists. The worst was the last, which seemed to go on forever, listing each heiress with her father, husband, and manor house--again with much repetition. Add to this the fact that the book is full of annoying typographical errors (such as Alva Vanderbilt being referred to, not once, but twice, as "Aha"). I can only recommend that you flip through it to look at the photos and find a better book on the subject (which indeed deserves much better).
Also by Gail MacColl