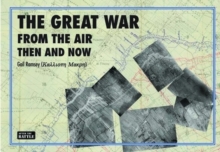 The Great War from the Air Then and Now
Hardback
Description
NOVEMBER 15, 2013 The war of 1914-1918 - the 'Great War' as it was called at the time -- left great swathes of northern France and western Belgium almost totally destroyed.
The destruction wrought by shell-fire was immeasurable and the ground was churned into miles of waterfilled shell-holes.
Complete villages had been razed to the ground and every forest blown to pieces.
The former rich arable land had not only been pulverised but was now contaminated with the detritus of war.
Trenches,dugouts,thousands of miles of barbed wire,abandoned equipment ,the smashed remains of hundreds of thousands of horses and men and the hidden threat of unexploded shells all created an indescribable landscape.In this book Gail Ramsey sets out to show how the Western Front has been transformed over the past hundred years by juxtaposing aerial photographs, trench maps of the period, with present-day matching comparisons, courtesy of Google Earth.
Aerial photography was then in its infancy but it began in earnest in 1915 and thereafter became an essential tool to produce the trench mapping which has now made it possible to pinpoint the precise locations depicted in the photographs taken during the war. Places covered include: Houthulst, Vlamertinghe, Bailleul, Armentieres, Houplines, Wulvergem, Crete des Eparges, Hill 60, Souchez/Cabaret Rouge, Montauban/Carnoy, Hohenzollern Redoubt, Loos-en-Gohelle, Verdun, Sanctuary Wood, Maricourt, Hebuterne, Serre, Beaumont-Hamel, Delville Wood, Fromelles, Pozieres, Siegfried Line, Bellenglise, Agny, Thiepval, Mouquet Farm, Ginchy, Nuremberg Salient, Vermandovillers, Morval, La Bassee Canal, Haisnes, Givenchy-les-la-Bassee, Ornes, Fort de Tavanne, Vaux/Vauquois, Hindenburg Line, Fampoux, Vimy Ridge, Bullecourt, Wytschaete, Oosttaverne, Vierstratt, St Eloi, Spanbroekmolen, Zonnebeke, Passchandaele, Lens, Dury, Cherisy, Polygon Wood/Black Watch Corner, Bapaume, Kemmel, Soyecourt/Lihons, Gheluvelt, Bois de Malancourt, St Quentin Canal, Vigneulles and Dannevoux.
Information
Format: Hardback
Pages: 128 pages, Over 200 Colour and Black and White Illustrations
Publisher: After the Battle
Publication Date: 15/11/2013
Category: First World War
ISBN: 9781870067812
Free Home Delivery
on all orders
Pick up orders
from local bookshops