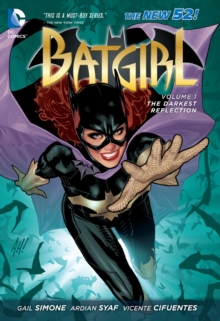 Batgirl Volume 1: The Darkest Reflection TP (The New 52)
Paperback
Description
A New York Times Best Seller! As a part of the acclaimed DC Comics- The New 52 event of September 2011, Barbara Gordon is finally back asBatgirl!
The nightmare-inducing brute known as Mirror is destroying the lives ofGotham City citizens seemingly at random.
Will Barbara be able to survive herexplosive confrontation with this new villain, as well as facing dark secretsfrom her past?
A new chapter in the riveting adventures of Batgirl continues instunning fashion, with script by fan-favorite Gail Simone and stellar art bysuperstar Ardian Syaf!
This volume collects issues #1-6 of Batgirl, part of the DC Comics- The New 52 event.
Information
Format: Paperback
Pages: 144 pages
Publisher: DC Comics
Publication Date: 01/02/2013
Category: Superheroes
ISBN: 9781401238148
Free Home Delivery
on all orders
Pick up orders
from local bookshops
Reviews
Showing 1 - 5 of 5 reviews.
Review by ElizaJane
16/06/2015
I read Vol. 3 as part of the "Death of a Family" cross-over and really liked it, so wanted to back-up and start from the beginning with this character. I've never read the Oracle character so am quite happy with the new background given to BG, since I know no other. This was quite intense, and especially knowing how much more intense it's going to get, I thought it was a great intro to Barbara/Batgirl. As with all the Bat-family books I love how other characters will pop-up. Here BG has an interlude with Nightwing [sigh] and she helps Batman out of a tight spot. The Mirror was a bit of a lame villain but I thought Gretel was pretty cool and it would be neat to have her show up in Arkham in the future. Having read V3 already, I'm now getting the background on some plotlines and I really like what Simone is writing. I like the art as well, it has the dark, moody Batman feel to it, just the way I like my Gotham City!
Review by shanaqui
16/06/2015
I very much enjoyed my first foray into Batgirl -- certainly much more than I did the volume of Batman I choked down a while back for a class. Barbara Gordon is fun, and I have a thing for redheads anyway, I liked the art and her interactions with Bruce Wayne, and it's a good introduction for someone new to DC.I had two nitpicks. One, I didn't think terribly much of the villains. They seemed almost too easily dealt with, like Gail Simone was starting Batgirl out soft because of the point I'm about to get to. It kind of makes sense, since she is being reintroduced and she is portrayed as needing to get back into the game here, but. Eh. I didn't really care about the villains, put it that way. It felt a little bit rushed, too, though when I flipped back through it didn't seem too bad. Maybe because the villain I was more interested in, Gretel, had less space.The other thing was, well... why did we have to have a miracle cure for a disabled character? I don't know much about Barbara Gordon or how prominent she might have been as a disabled character, so maybe there have been other issues building this up, but just jumping right in and finding that she was completely paralysed and then got better "miraculously" (as several people point out), it just didn't feel right. I thought I was okay with it at first, given the way she talks about the time in a wheelchair and insists she's not delicate now she's out of it, but it didn't quite add up for me.Still, enjoyable, and I'll pick up some more Batgirl when I get chance.
Review by RussianLoveMachine
16/06/2015
Barbara Gordon has been wheelchair-bound ever since the Joker shot and paralyzed her. Thanks to a medical miracle, she's back on her feet as Batgirl. But is she really ready to face Gotham's criminal elite? Even Barbara herself isn't quite sure...I'm still not sure how I feel about taking Barbara Gordon, who had been a successful member of Birds of Prey as Oracle, and giving her back her mobility. On the one hand, superhero continuity is a notoriously fickle thing. On the other hand, superheroes with disabilities are rare and could use more representation.Regardless, Gail Simone does an excellent job, and the artwork by Ardian Syaf and Vincent Cifuentes is fantastic--even though it's gloomy Gotham, there's always a bit of brightness, whether it's Babs' red hair or the flashing mirrors of her enemy. Recommended for all comics aficionados.
Review by nmhale
16/06/2015
Oh the controversy that surrounds this book. Barbara Gordon is released from her wheelchair and resumes the cape in the reboot of the Batgirl title. The story begins with her in full swing, on her way to bust heads on some creepy home invaders, and fills the reader in with her interior monologue that she hasn't been at the physical crime fighting for that long. She still manages to take out the perps, but when a serious criminal arrives on the scene who has a vendetta to kill every person who miraculously escaped a near-death experience, Batgirl wonders if her rusty abilities are up to the challenge. She is determined to stop the madman on her own, refusing help from Nightwing or any other.In between crushing fights with Mirror, Barbara has plenty of other problems to handle. She moves in to a house with a new roommate, who is almost too perceptive of Barbara's extracurricular activities. Her father is still very concerned with everything she does, and the reader learns in bits and pieces that Barbara received an experimental treatment from South America that helped her get out of the wheelchair and start walking. After figuring out a way to end Mirror's crusade, with a combination of psychological and physical attacks, Batgirl is confronted with a crazy woman. Gretel can control men with a few spoken words, and she has her sights set on Bruce Wayne. Although the story is introduced towards the end of the volume, Batgirl works with Batman to resolve it in just a couple of issues.I enjoyed this title, which has the advantage of being set in Gotham. I grew up watching cartoons of Batman, Robin, and Batgirl. I certainly understand the arguments of fans who are disappointed that DC removed one of its compelling characters with a disability, and from what I've read about Oracle, she sounded like an amazing character. I never read any comics with Barbara in her Oracle days, though, so reading this feels true to my own memories of Batgirl. The stories were suspenseful and fast-paced, darker than I expected, but with good mysteries. I loved the scenes with Nightwing. I also liked the potential with the new roommate, and Barbara's interactions with Batman. Gretel's story definitely felt rushed, her unique gifts and back story had so much more potential. Hopefully she returns with a more sustained story in the future. The series is entertaining enough for me to return to the second volume, and see how Barbara Gordon's story develops.
Review by comfypants
27/08/2015
I feel like reading one of DC's current series, and chose this one for a variety of unimportant reasons. So far, it's unmemorable, but perfectly okay. There's potential, and I think I'll keep going with it.