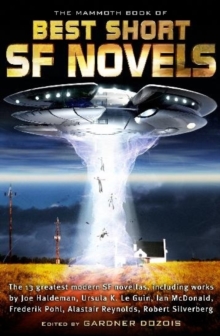 The Mammoth Book of the Best Short SF Novels
Paperback
Description
Few forms suit SF better than the short novel: long enough to flesh out the details of an alien world or bizarre future society, yet short enough to pack a punch - powerful, elegant and free of padding.Now, drawing on his benchmark annual series Best New SF, multiple award-winning editor Gardner Dozois selects the 13 finest science fiction novels of the last 20 years.
These unmissable tales, collected here for the first time in one volume, include: Robert Silverberg's 'Sailing to Byzantium'.Michael Swanwick's 'Griffin's Egg'.Alastair Reynolds' Turqouise Days'.James Patrick Kelly's 'Mr. Boy'.Ursula K. Le Guin 'Forgiveness Day'.Greg Egan's 'Oceanic'.
Information
Format: Paperback
Pages: 512 pages
Publisher: Little, Brown Book Group
Publication Date: 20/09/2004
Category: Science fiction
ISBN: 9781845299231
Free Home Delivery
on all orders
Pick up orders
from local bookshops
Reviews
Showing 1 - 2 of 2 reviews.
Review by kevinashley
16/06/2015
A mixed bag of stories, some of which I really enjoyed and some of which left me feeling cold. A few themes are recurrent - longevity or immortality and contact between advanced and non-advanced civilisations being amongst them. Some mood pieces would have been better short stories; others teem with ideas that deserve the space of a novel; and others suit this length perfectly. Surfacing, Turquoise Days and Forgiveness Day stick in the memory for me. Summaries of all the stories (without spoilers) are below. One irritating factor is the voice of the editor in the introductions to each story - his voice is a little overbearing.Sailing to Byzantium (Robert Silverberg): A man from 20th century New York is transported to a far future Earth where the only cities are ones created temporarily and then destroyed; they function as amusement parks for the few humans left. As he tries to make sense of their existence, he makes discoveries about them and about himself.Surfacing (Walter Jon Williams): A xenobiologist studies deepwater creatures that noone has ever seen, with the help of some imported humpback whales. Someone else joins in - and then more than he expected. An unlikeable anti-hero, who isn't much redeemed by the end, but an intriguing setting and well-written.The Hemingway Hoax (Joe Haldeman): Haldeman revisits the broad themes of the Forever War with people who exist outside time and can travel through it to alter events to produce or thwart particular outcomes. But the setting is quite different; the travellers aren't a military outfit, and it's never clear what outcomes they are concerned with. What's clear is that a 20th-century scholar of Hemingway, his wife and their associates are central to something that worries them a lot. One of Haldeman's better stories for me.Mr. Boy (James Patrick Kelly) A future in which the rich can indulge in endlessly self-indulgent body modification (the lead character's mother, for instance, is an immobile life-size statue of liberty) and the prolongation of childhood. But there are the ppor as well, and this is a different sort of rich-boy-poor-girl story and a coming of age tale wrapped up into one.Beggars in Spain (Nancy Kress) At one level, an exploration of the potential good and bad in genetic enhancement, and particularly of the possible changes that result from removing the need to sleep. But it's also a story about a family, about daughters who aren't treated equally and about discrimination.Griffins Egg (Michael Swanwick) A moon with a large-enough population that it begins to have its own politics, secret police and machinations. And then it is cut off from Earth and plunged into civil war.Outnumbering the Dead (Frederik Pohl) In a world where everyone lives just about forever, one or two do not. One, who begins as a spoilt diva-like entertainer learns about other forms of human endeavour and learns to love life and to acknowledge death.Forgiveness Day (Ursula K McGuin) Set in her Hainish universe, an envoy struggles on a world awaiting admittance to the Ekumen, where slavery and sex discrimination are still part of everyday life. The writing conveys well the difficulty facing the diplomat, who cannot truly understand the society in which they must operate and can cause offence in many ways and never know they have done so.The Cost to Be Wise (Maureen F McHugh) A tale of human contact with more primitive people and the unfortunate consequences of interfering with things that aren't understood. But also of the need to break the rules and interfere just a little. Bleak.Oceanic (Greg Egan) A tale of religion, orthodox and heretic in a far-off world with two groups of people - freelanders and firmlanders - who live on the ocean and on land. They know they're descended from settlers of some form, whom they call Angels. Scientific research, love and politics are woven into an atmospheric story of the maturation of an individual.Tendeleo's Story (Ian McDonald) It's the early 21st century and we're in Africa, where a mysterious something is consuming the landscape and everything on it slowly and relentlessly, leaving behind an alien ecology. The Chaga is present elsewhere on Earth, and international efforts are underway to monitor it and move the refugee populations out of its way. Tendeleo is one of those affected. But this refugee's story becomes one of hope, born out of despair.New Light on the Drake Equation (Ian R Macleod) The Drake equation relates to the likelihood that other planets in our galaxy are populated with intelligent life. In a story that's dreamlike and yet barren, we follow a broken individual who has spent his life in pursuit of evidence from distant radio emissions, giving up love and friendship in the process. In the end, we're never sure if it returns.Turquoise Days (Alastair Reynolds) On the seaworld of Turquoise, investigation of the perplexing vegetable-like lifeform called Jugglers is possibly about to break new ground. A visit from a starship from a more advanced world might bring promise or threats. It takes many twists and turns of the always-tense plot before we find out which it might be. Some really inventive ideas in a well-written story that aches to be expanded to a full-length novel.
Review by Noisy
16/06/2015
Sailing to Byzantium by Robert SilverbergA 'visitor' experiences life in the far distant future amongst the immortal race that humans have become. The ennui of an endless life is mitigated for the citizens by their exploration of cities from the past that are continually torn down and remodelled. Charles Phillips - the visitor from the twentieth century - drifts with the crowd that have adopted him and forms an attachment that becomes love. There - that's the plot (apart from the twist in the tail). Sounds pretty inconsequential when you boil it down to the bare bones, but Silverberg creates a great atmosphere and I was given a real feeling of space by a number of scenes being set in high vantage points. The writing is very good indeed and this is certainly worthy of inclusion in this 'Best' collection. 3.5 starsSurfacing by Walter Jon WiliiamsA xenobiologist is researching the ocean on a planet and trying to untangle the language of its abyssal inhabitants. The entanglement of a love interest; a warped childhood; and a mysterious puppet-master make this a tale with lots of threads. I quite enjoyed this: a very different setting and some interesting ideas are pulled together to pad out quite a slight story. The writing is very good, so I might keep my eye open for more works by Williams, who is a new author to me. Whether the work qualifies for inclusion in this 'Best of' collection, I'm not sure. 3.5 starsThe Hemingway Hoax by Joe HaldemanA scholar enticed into the hoax of the title becomes mixed up with some n-dimensional creatures who aim to stop him doing whatever it was he was going to do. Except things don't turn out as expected, and in the end something else happens. I'm not sure what, though. If anyone knows, can they drop me a note? A very strange story that gets stranger as it goes on, to the point where I had no idea what was going on: that left me pretty cold. Not my cup of tea at all. Couldn't recommend it.3 starsMr. Boy by James Patrick KellyThis story about rejuvenation techniques and extreme body modification and AI was written in a pretty conventional style. Well actually, rather than being about the science fiction motifs that I just mentioned, perhaps the story is really just about growing up? The story flowed nicely and kept me involved. I'm not familiar with James Patrick Kelly, but he certainly deserves further inspection. 3.5 starsBeggars in Spain by Nancy KressGenetic experiments lead to a new race of humanity with no need to sleep and the added boost to intelligence that is a side-effect. It doesn't take long for the down-sides to become apparent, and for the masses to start assessing where they stand now. I've seen the story mentioned many times before (although that might be the full novel version), and I'm pleased to say that it lived up to its reputation. I'm quite happy to recommend this as the best of the short novels in this collection so far. 4 starsGriffins Egg by Michael Swanwick4 starsOutnumbering the Dead by Frederik Pohl4 starsForgiveness Day by Ursula K. Le Guin4.5 starsThe Cost to Be Wise by Maureen F. McHugh4 starsOceanic Greg Egan4.5 starsNew Light on the Drake Equation Ian R. MacLeodA SETI-obsessed recluse is the last one of his kind left after substantial numbers of the science fiction tropes (that he remembers from his childhood reading) have come to pass. Still no signals picked up in spite of the advances in technology, but those advances have also altered the terms in the Drake Equation to make success even more unlikely. Will alcohol and a lost love change his attitude? 4.5 starsTendeleo's Story by Ian McDonaldNot read - will read as part of Chaga seriesTurquoise Days by Alastair ReynoldsNot read - already readto be continued
Also in the Mammoth Books series | View all